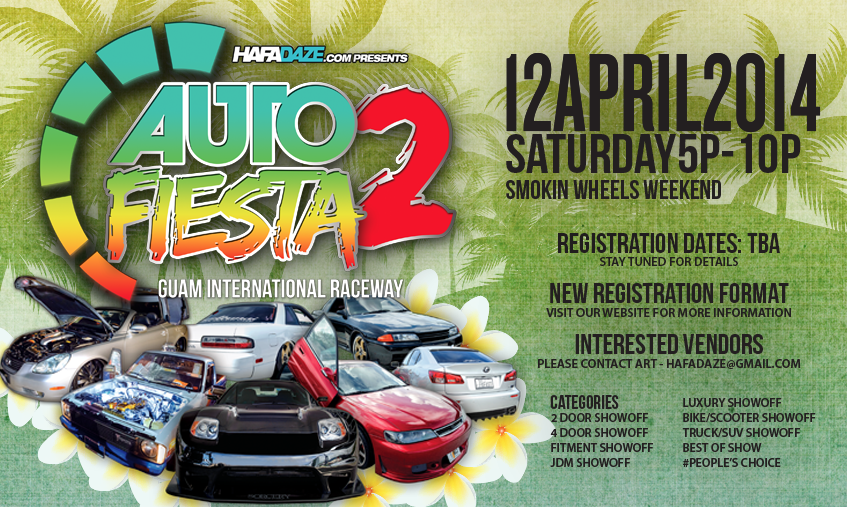 …Aaaaand we're back.
HafaDaze.com is back at it in 2014, presenting Guam's first car show of the year, Autofiesta 2. The sequel to last year's hit car show, HafaDaze.com is pleased to return for the second year in a row packed with more experience and loaded with several new ideas. Autofiesta 2 will take place at the Guam International Raceway on Saturday, April 12, 2014 starting at 6PM.
• Registration opens March 12 at Proline Guam – Harmon Industrial Park – 671-646-5528
• Registration fee (REGISTRATION CLOSES ON WEDNESDAY APRIL 9, 2014) – $35.00
• Late Registration (APRIL 7 – 9) – $45.00
JUDGING 
While this year's judging criteria has been modified, it has allowed for a convenient general entry fee. All vehicles entering the show are to choose one (1) category they feel worthy of competing in. On show-day, each category will be narrowed down to the top 5 vehicles based off of display and judge-discretion where it will be taken into a  thorough judging criteria to determine the top 3 placement. All entries to the show will be $35.00 which includes entry to the show for driver + 1 guest. Prices to go up to $45.00 after April 6.
The judging criteria is pending review.
TIME – Roll in and vehicle check in starts at 8:30AM 04/12/13. 
All participants must be on show grounds no later by 1:00PM on April 12, 2014 and ready for judging by 2:00PM. The pit gates will be open from 8:30AM – 1:00PM. Once the gates are closed you risk being disqualified for the show. No refunds will be issued.
The #PEOPLE'S CHOICE category will be determined by how many likes are received on Instagram by 8PM, April 12, 2014. Each vehicle will be posted in the order that they are registered. This is an incentive for you to check in your vehicle as early as 8:30AM. The longer your photos are up, the better chance you have at accumulating more "likes," in this case, votes.
SET UP All vehicles once checked in will be moved into place by show officials. A parking decal will be placed on your vehicle and must remain on while parked within show grounds. Once situated, vehicles will not be allowed to move until the end of the event at 10pm. Vehicles will be allowed to have displays to enhance the look of their vehicle in their provided space.
Canopies will NOT be allowed to be set-up by participants on show areas. Absolutely no outside food or drinks allowed.
CONDUCT Noise should be kept down to a minimum during setup and break down out of respect for fellow entrants. Displays may not be dismantled until instructed by event officials/staff. This includes starting the engine and moving the vehicle from its area. This safety rule will be enforced to protect the attendees. Good conduct shall be enforced during the show, burnouts, un-sportsman like conduct, profanity, fighting, damaging property, starting your vehicle and revving the motor, or display of conduct deemed objectionable by show officials will not be tolerated. No driving around at any speed. Any show car caught in motion on the show field will be sited. GPD will be present on the event grounds.
AWARDS All vehicles registered to showcase are eligible for awards. 1st thru 3rd trophies will be awarded to the judges choices in: 2 Door, 4 Door, Fitment, JDM, Luxury, Bike/Scooter, Truck/SUV. Special awards will go to: Best of Show, People's Choice, and Best Car Group
A FULL LINEUP OF ENTERTAINMENT TO BE ANNOUNCED 
VENDORS All interested vendors please contact Arthur Abuda at hafadaze@gmail.com for details on how to reserve a space.
Autofiesta 2 will feature the following categories:
2 Door Show off – 3 Winners
4 Door Show off – 3 Winners
Fitment Show off – 3 Winners
JDM Show off – 3 Winners
Luxury Show off – 3 Winners
Bike/Scooter Show off – 3 Winners
Truck / SUV Show off – 3 Winners
Best of Show – 1 Winner
People's Choice – 1 Winner
Best Car Group (Participation) – 1 Group Winner
Get your cars ready Guam! We're looking forward to providing you with another great car show this year!