Once again, Offset Kings – dubbed locally as #OKGU – returned to our beautiful island this past weekend. Just a few months ago, 1-9-16 was announced as the final stop of the 2015 tour by Fatlace and it's famed car showcase. Produced locally by the masterminds at Upshift Ent and AN Films, OKGU once again created a huge buzz in the local car enthusiast community. Car shows are far and few between nowadays…especially with such a high-production quality… so it was once a great treat to have Fatlace and crew back on island again to give the homegrown builds a platform to showcase their builds to not only show patrons but to a worldwide audience via social media and sites like ours. 😉

Last year's Best of Show winner, MTX~Arnold, was out and about… From my point of view, there wasn't any relatively new on it since the build was pretty complete already. The bar was set high as the sky by him last year and I don't think anyone could have jumped over it since he had all his bases covered. But to my surprise, he drove out of the show empty handed. While confusing to some, that's the unique aspect of Fatlace's/OKGU's show format… Anyone can take home all the marbles! David slaying Goliath… Buster Douglas knocking out Mike Tyson… 123 Kid pinning Razor Ramon (dat WWF reference doe). Whether you spent $500 or $5,000 on your build – it's all up for grabs…
I was surprised to see TRU~LilBong come out with his Civic… He's always been a supporter of the brand and of the import scene. Building cars since err since. Those Denji headlamps?
Some subtle changes to TRU~Jed's TSX… New JDM grill and now sitting on some bronze Work D9R's which are the newer version of the XD9…which what I thought they were. Nothing too over the top. BTW – big thanks to him for providing us with coverage of the event; Follow him on IG – @jeders and peep his hastag #jedespinophoto for some cool shots.
All black everythang on this Mitsu Lancer…
MTX OG build 1NAS from Lawrence Luces… Why not…
Surprise S2K build that came outta nowhere… This is the kind of stuff I love to see at the shows. Our community is small so it's kinda hard to keep a build under wraps. Not sure when it was completed nor do I know who owns it but great job to "Murer's Garage." When I went for a closer look at it, I could literally smell the fresh paint… It ended up taking home the award for Best Honda at OKGU.
Speaking of fresh paint… here's M2S~Justin's TC with a new gold respray.
A car that completely missed it's paint job appointment… MTX~Bertu's bagged 350Z. Pretty obvious it's still under construction, but yaaaaas to that display.
Bertu's other car… not sure which one is daily… but damn… Ballin' outta control! For those who remember, this car was the Best of Show winner 2 years ago at the first Fatlace branded show on Guam – Slammed Society.
Steven Gass from MTX/PassionProjects looking good with his IS300. Thanks for coming by the booth man!
Matt Gumabon's Mitsu LanEvo on some fluroescent Gram Lights. Those things pop!
SuperKawaii bagged Mazda3… What's that peeking in the background…
Localize~Eric's Honda FitTruck… lolz. Eric's actually my neighbor and I remember this car being parked outside his house with the back barely covered with a plastic bag for months. He played God with his Fit and Franksteined it into a truck.
Gotta give him props for that ingenuity… "Observe, Adapt, Evolve." I see you bro. 3rd place mini-truck! Ayyyye!
Clean MR2 from Team Exile… Nice showing from this crew this year.
Taking home the slammed award for the second straight year – this hammered Miata from Team Exile…
Beemer rocking that GoodVibez body banner…
Another all black everythang theme – this time on a new gen Civic SI from MTX with that uber limited edish frame. 😀
Rodell's Lexus GS – now bagged – on Fabolous Profounds…
Czarnico's clean RSX which is you guessed it… bagged.
One of my favorite builds from last year's show, Taiyo's Subie from MTX… The best Subaru of the night.
Just like last year's show, I probably had 3-4 favorite cars of the night… and once again AJ's Lex made that list. Major changeup with the Art in Motion wheels… and damn this thing just kills it. I've said it so many times before… and I'll say it once more… if I had the chance to build a car again it would look something like this – no matter the platform….and I'm not being biased because he tags us on IG… lol. I quit.
Ending today's coverage with a quick shot of our itsy bitsy teenie weenie 10×10 booth nestled between the area where drinks were sold and the homies from Hafaloha. Nothing dazzling to see here… pretty minimalist… Jaime's because race car Civic, two tables and four chairs… oh and that 5 year old banner that had mold growing on it from leaving it outside for so long. lol. Going into the event, the HFDZ crew kinda talked about doing "one last" t-shirt release. We'd always joke about HAFADAZE RIP on our personal whatsapp chatroom… and to tell you the truth – we all really don't know what's next for us. We've been pushing the "UNITING ENTHUSIASTS" theme since ever since and we're sticking to it. I still remember the first time we did GU'NITEZ at ITC-X… The way that event broke the car club barriers… it didn't matter what car you drove… or what sticker you had on your windshield… or what beef you had… The community united all for the love of of the cars and the culture. With that, we sincerely want to thank everyone who has supported us through the years on island and abroad. You all played a part in the success of keeping our scene alive. Are we hanging up the gloves…? Maybe… for awhile. But rest assured – we aren't going away forever and this definitely won't be our last update… We still need to do part 2… part 3… and maybe even a part 4 of OKGU2016. Then we can rest. So stay tuned!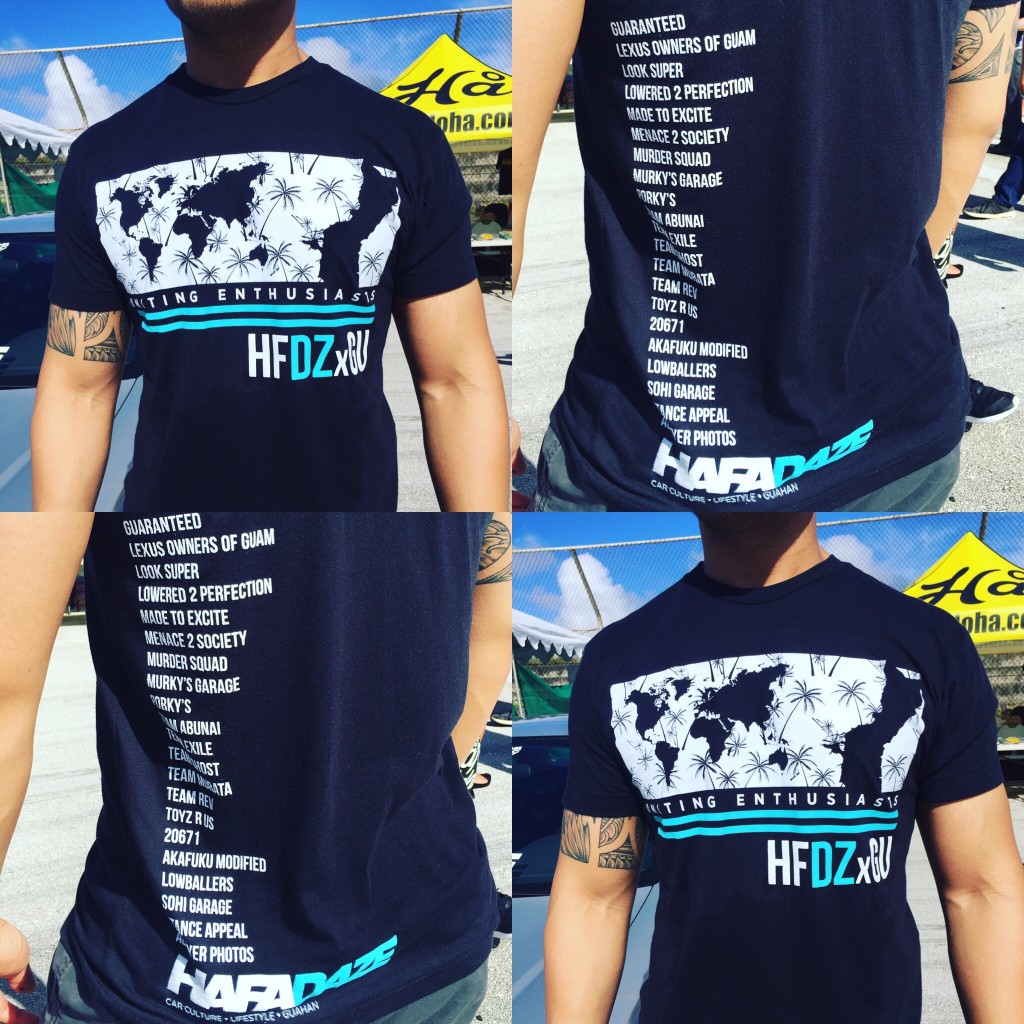 With that said, here's a quick collage of our Iphone-ographied  UNITING ENTHUSIASTS// tee; We may be a small island but our love and passion for the scene is as big as anyone else in the world…it also pays homage to all the crews who have supported us!
They sold out at the show, but we'd like to give those who missed out on them an opportunity to get theirs. Orders are now being taken at our ONLINE STORE. The store will be closed for orders on January 19, 2016.  Get them now before they're gone… again!
Much love and respect,
HFDZ~JuanxJaimexArt