We had originally planned on using my set for part 2 of the Stance Appeal Chillin' & Grillin coverage. Yet, once again, I opened up my sd card to find all the cars at the same angles. I guess it was just too hot to get all fancy with photography stances and what not. So, for this portion, we will be looking at some random car stuff from the meet, as well as the few pictures that Juan didn't have on his camera.
Also, at the bottom of the page, we will leave links to videos some event goers made of the meet.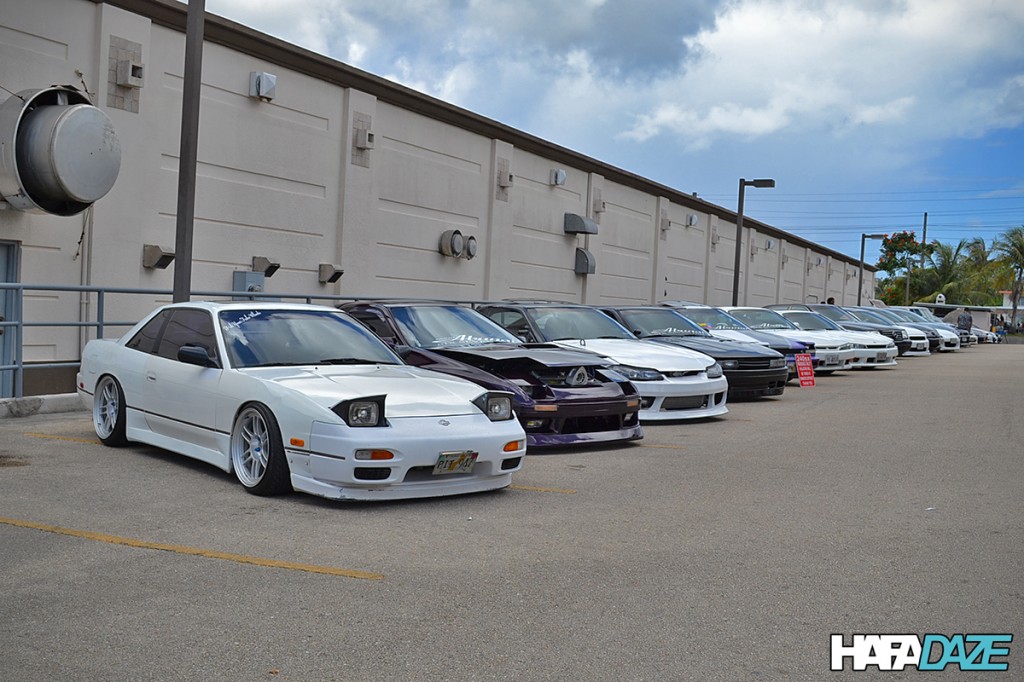 Here's a shot of the line-up starting from the Team Abunai cars. Yea, don't even bother with the wheel game 'cause these guys have it locked down.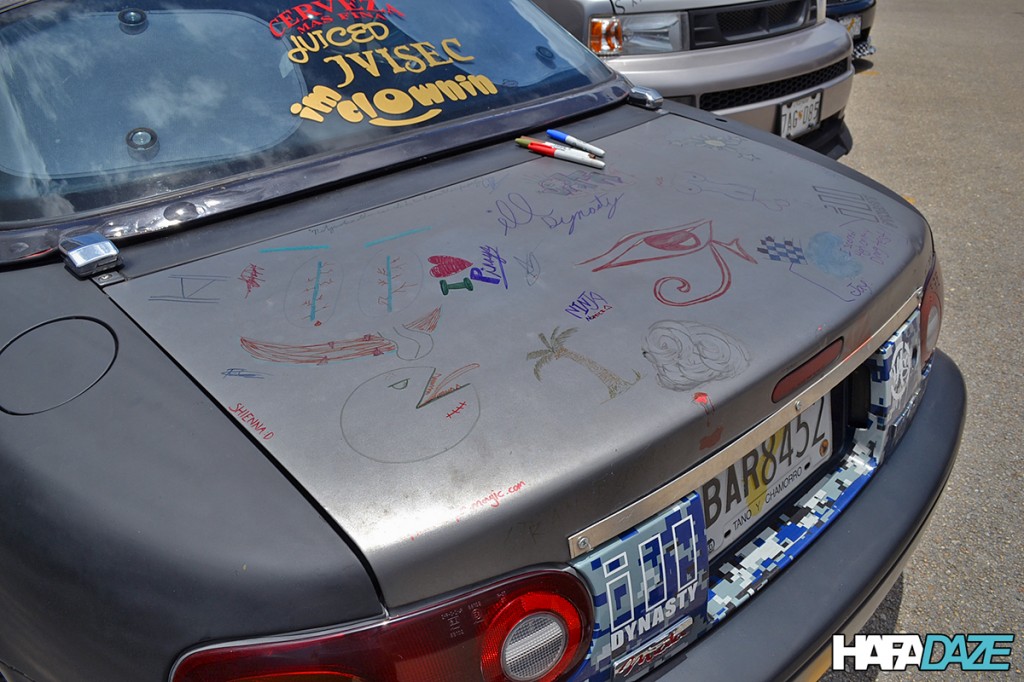 The OMG POP Draw Something hype must still be growing as the Ill Dynasty guys are even playing the game on the trunk of one of their Miatas.
Local body and paint legend, Jun Muhi, unloading his R1 with help from the boys.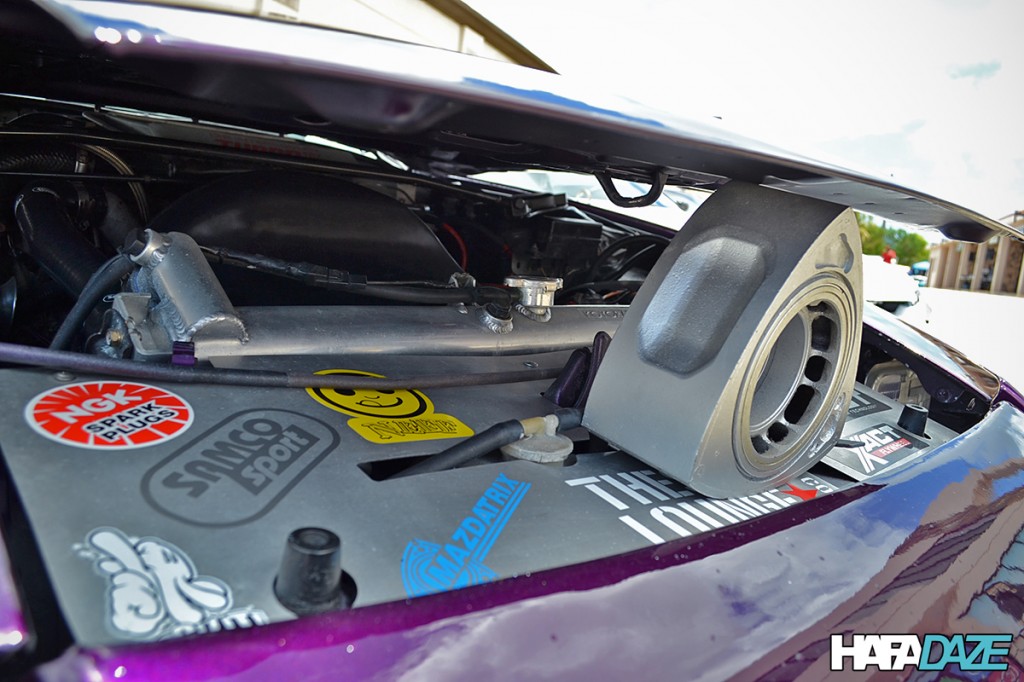 Rotor. And that's all I know about that, haha. Btw Jimbo, let me know and we can slap a Hafadaze sticker onto that cooling/diversion plate.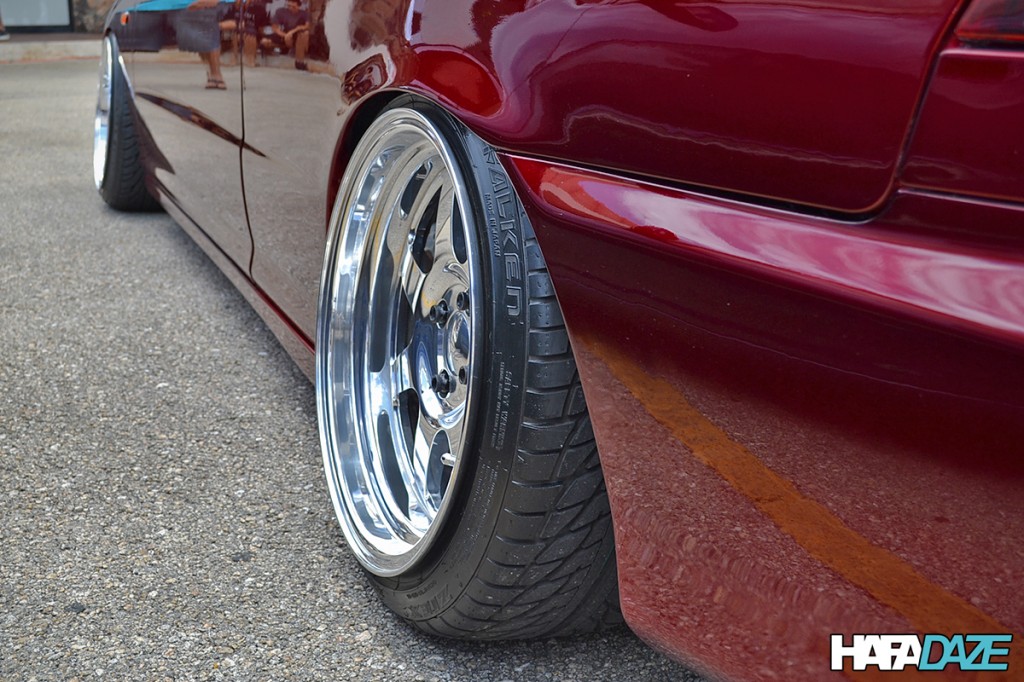 Charley's stance. JLines+Falkens+-xx degrees of camber=$$$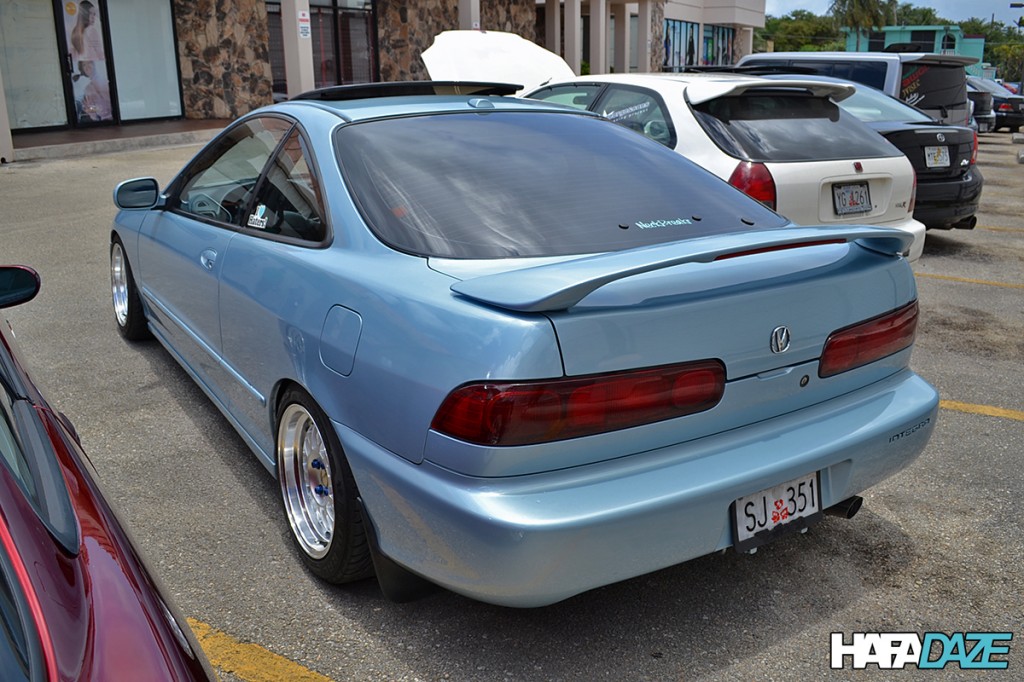 We were always big fans of Jay's Integra because it was really fresh on the eyes. We especially loved that he was rocking old school steez when he was still on Charley's Niches. He rolls on Stance wheels now, but at least we still get a little taste of that 90s/2000s flavor with the upturned A.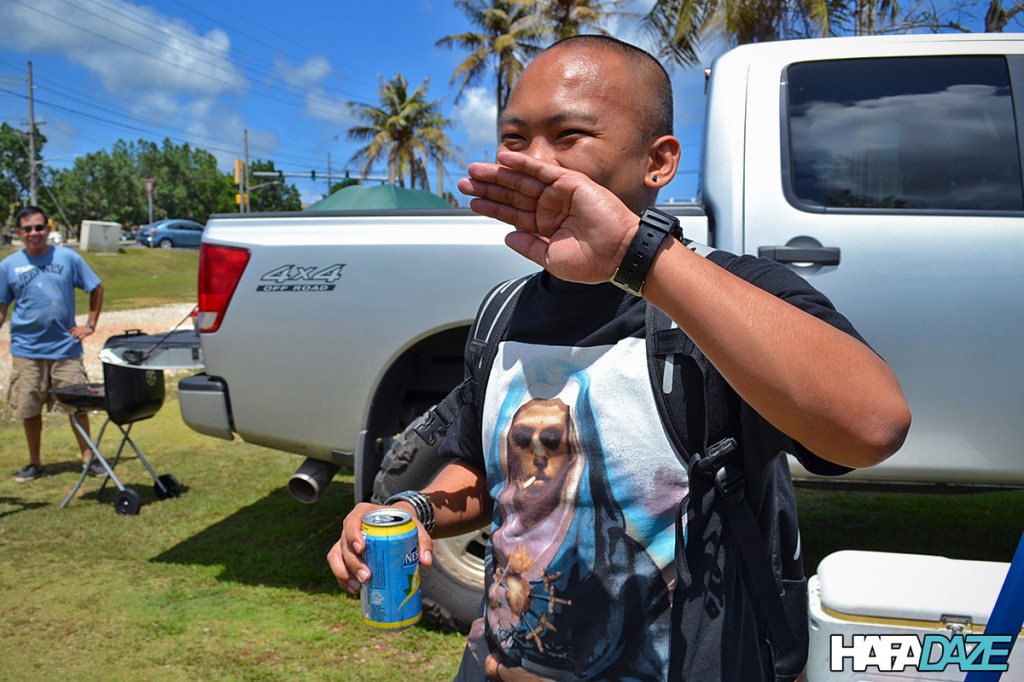 Nine Inch Nails member DJ Berg made a special appearance.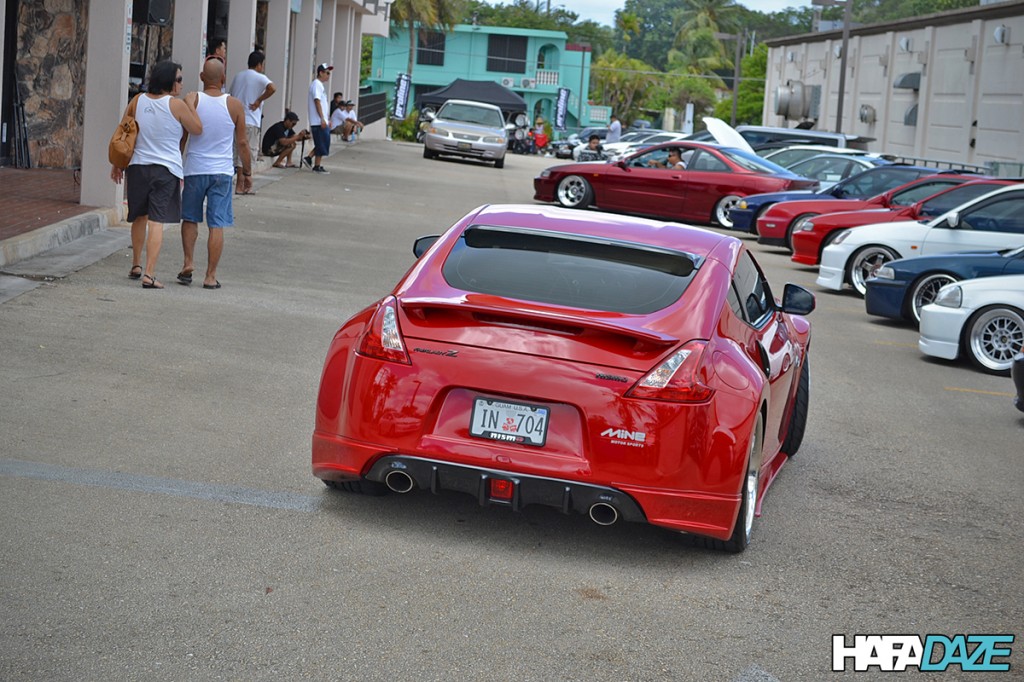 At the time this Z was rolling in, I literally thought it was John Devera's. I do not know Zs, but I do know that John owns a proper red one. So to Roy, the owner of this 370, awesome job! Thanks also to myk1013 for clearing that up for us.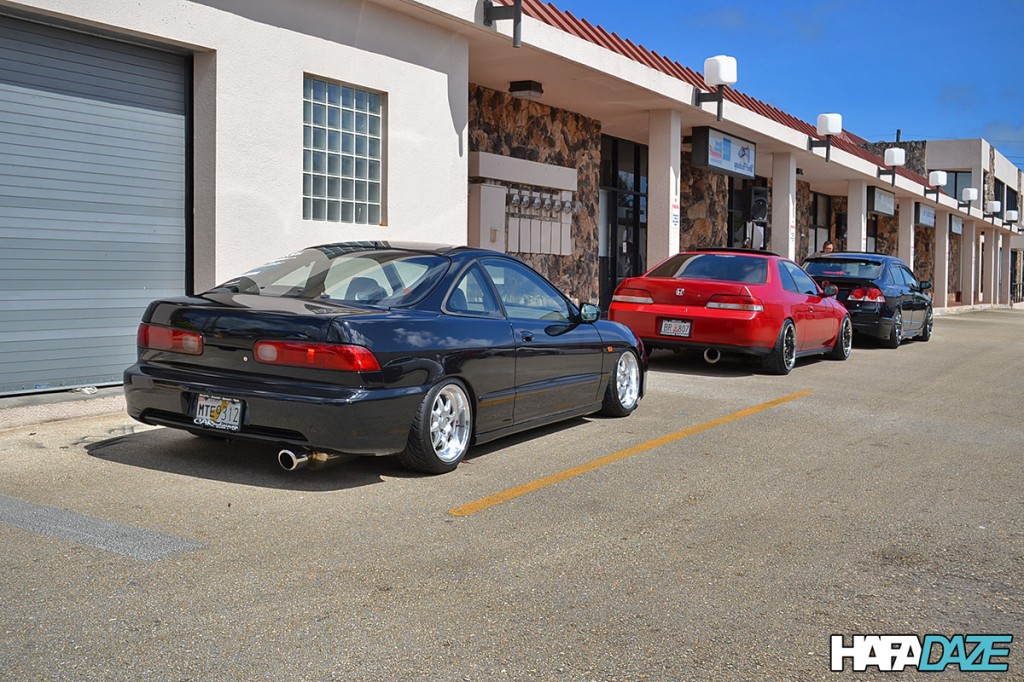 Front line with MTX-Mark, MHG-Josh, and TRU-Jun.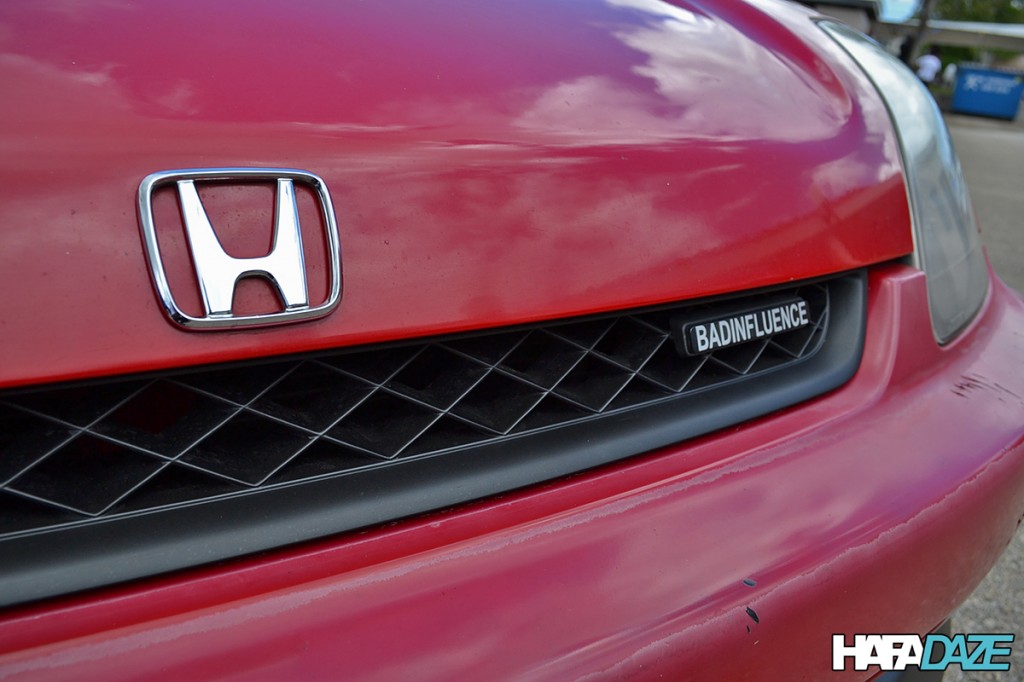 Nice touch on the Badd Influence badge. This was the same Lude that Juan had posted in part 1 of the coverage. I think it belongs to TRU-Marty's younger brother now, but was once owned by TRU-Hermie. I could be wrong.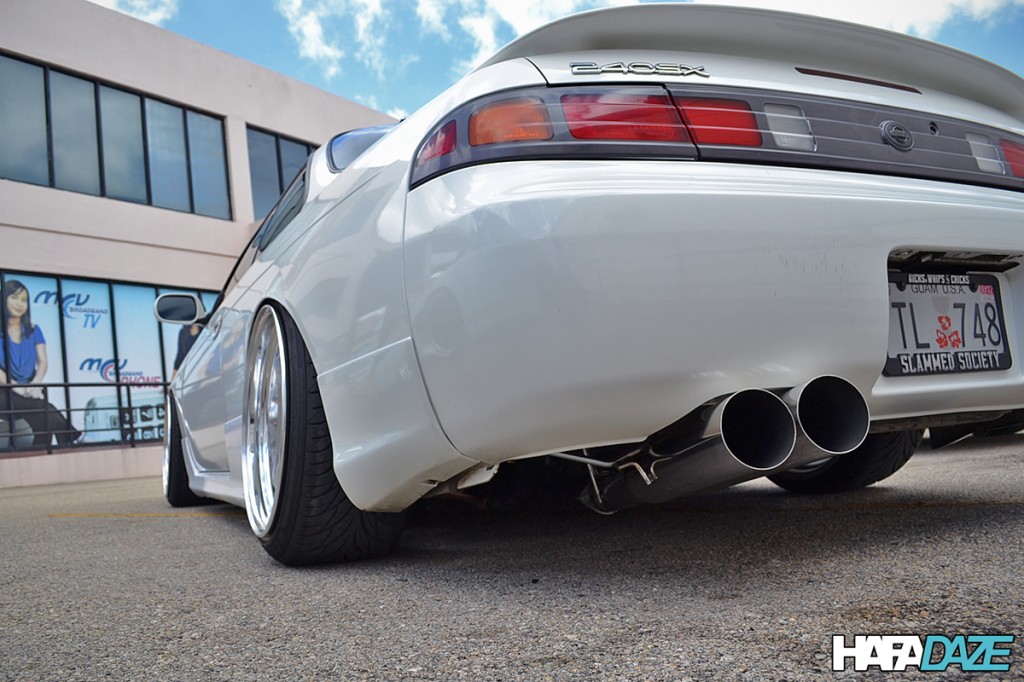 Blast pipes on Abunai-Ben's Kouki.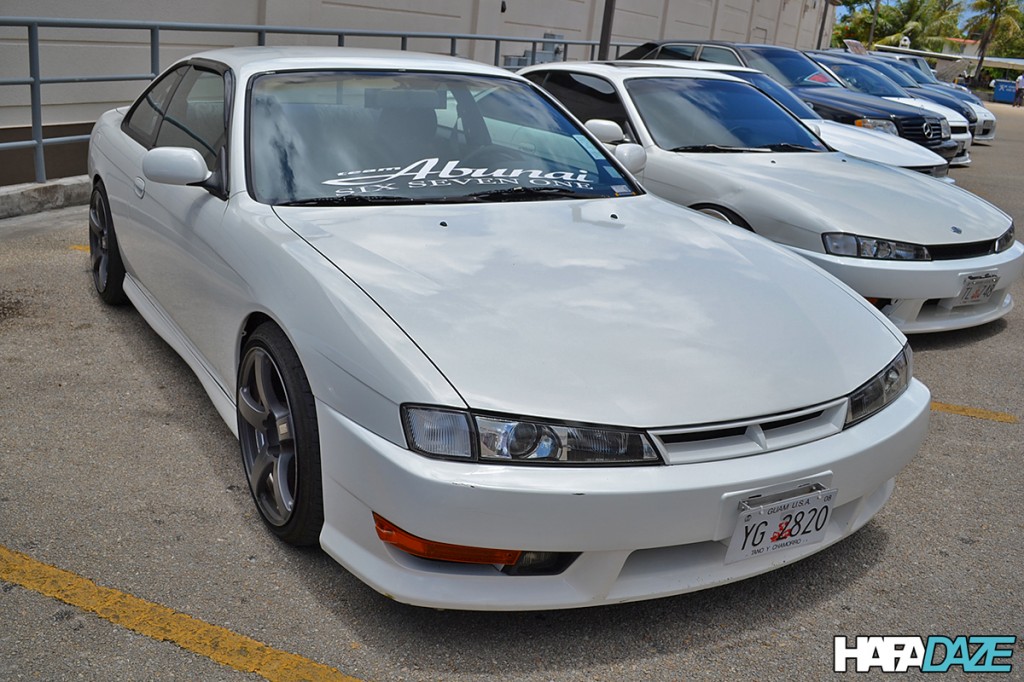 Ben's brother Brian's S14. Some of the guys were messing with him on Facebook because we didn't have a pic of his car in part 1, lol.
For a while, me and MTX-Jorge were chillin' with Team Abunai under their tent. They were set up closest to the road so we often or were often spotted by friends who happened to be stuck at the light.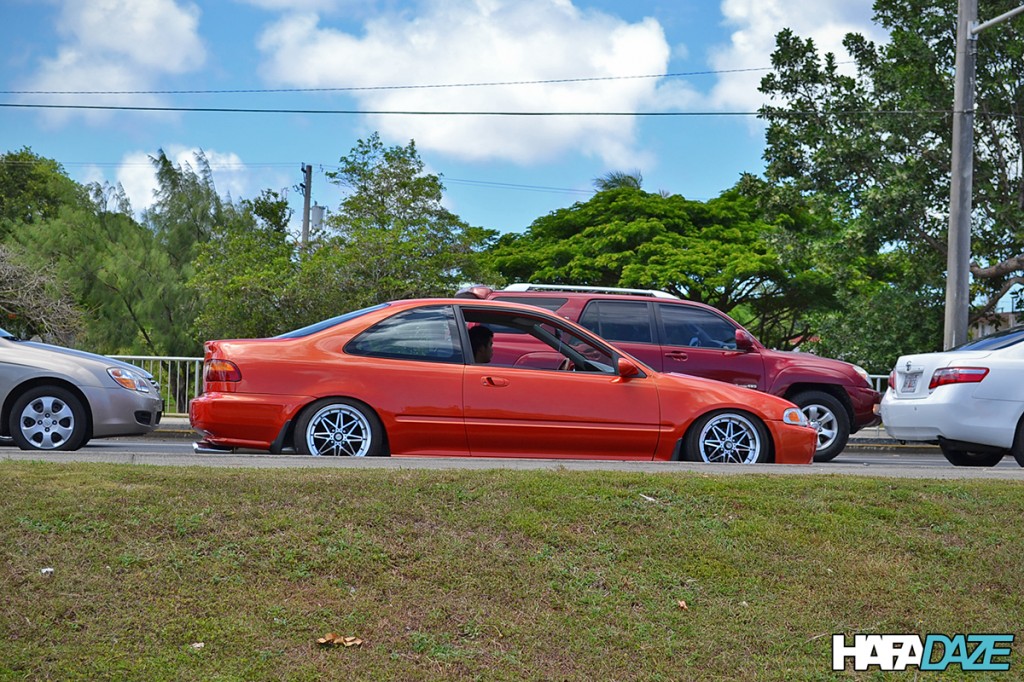 One car I was able to get a shot of was this orange Civic coupe from Guaranteed Auto, which looked like was being driven by Guaranteed-Bobby.  Good looking car over all. Well done paint work and timeless wheels.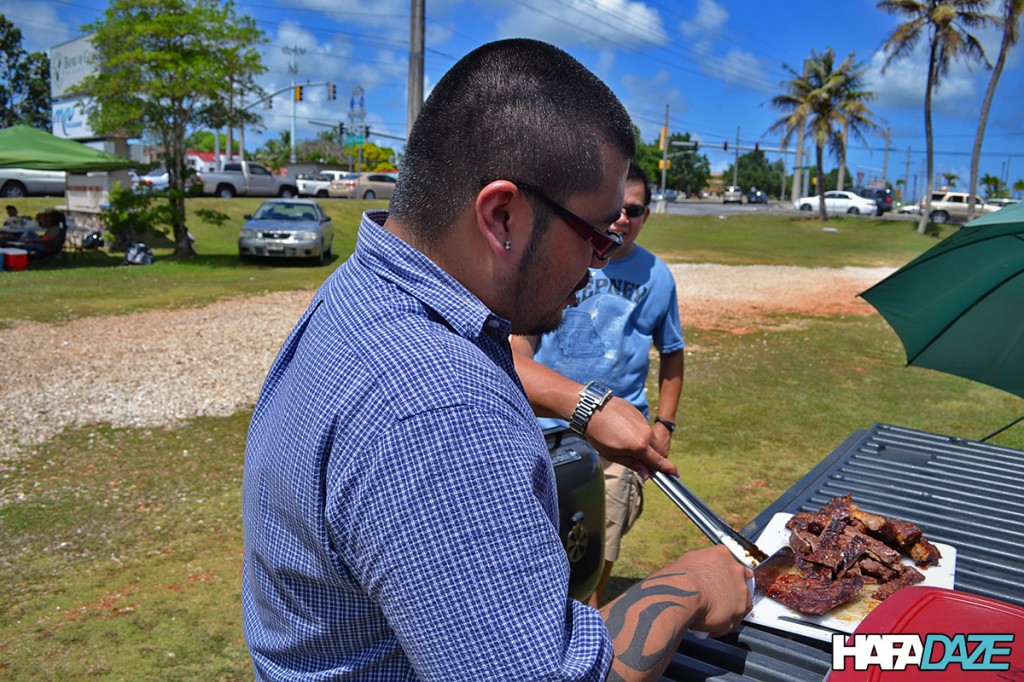 M2S-Rome slicing some beef. This last pic is to show people who missed the event that it was just as the flyer stated. Grilling stations set up throughout, with good vibes to match.
Oh, and sorry I wasn't able to get pictures of it, but around this time or a little after, Team Abunai provided some funny entertainment as they got the KFC Dededo/Macheche lady to dance to DJ Sylnt's beats for some food or cigarettes or whatever, haha. Highlight of the meet! The Magicant guys might have a little bit of it on film, so keep an eye out for their production too.
To close our coverage of Chillin' & Grillin' 2012, like Juan said before, props and thanks go out to everyone who helped make this event happen- Stance Appeal Clothing, Canvas Skate Shop, CR Films, and Proline!
Also, I can't forget to give thanks to Stance Appeal/Toyz R Us, Menace 2 Society, and Team Abunai for inviting us out of the sun and into their tents, and for sharing some good grub.
Get another feel of the meet by checking out these videos.
CHILLIN\' & GRILLIN\' GU – CR Films
Chillin\' & Grillin\' (April 2012) – marriottworks
Peace!
-JME