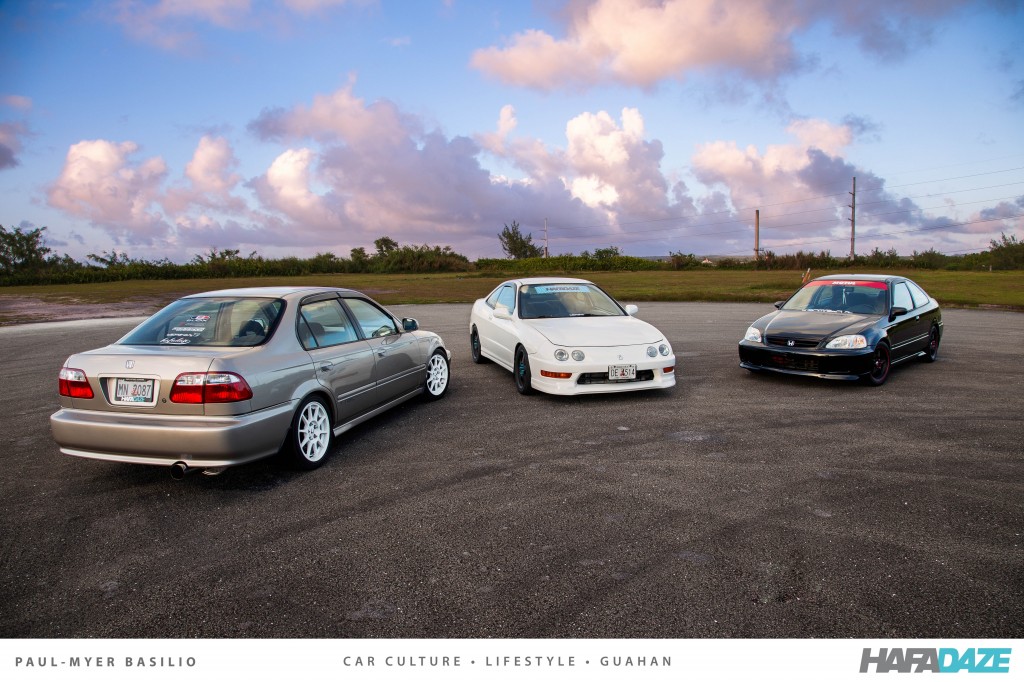 Well, it's been a minute since we've had some content up on here. After coming back from the holidays, daytime schedules have gotten pretty full. Hfdz-Art himself has taken on a new position at a new jobsite, and it's still that GDOE hustle for me and Juan.
But in more recent news, I was lurking the net recently when I came across a post about a car related episode in Florida. It was about a female hatchback owner getting wrecked by some other girls while trying to drive away.. I really don't know how everything escalated, but did read that it was all because of some Facebook comment. Smh. I just thought it was really sad because this is what gives real Honda enthusiasts that horrible immature ricer stigma. An example of the direction the community should not be going in.That post gave me the perfect reason to share what we have for you today- cars built by the love for them.
If you are hoping to see some low offset, negative camber, or remote activated height adjustability, you might want to hit the close button. Today you'll find cars totally inspired by that pure Honda spirit.
First off, these pictures were taken by Team Ghost homie and Hafadaze honorary photog Myer Basilio, aka Admyer Photos. The fam is lucky to have built a strong camaraderie with Myer. The guy is good. He has a true eye for automotive photography, but most importantly, he has a genuine passion for the tuning lifestyle. #therealmvp lol!
Honestly, this was really a long awaited shoot for me. Since I first got the Integra painted in December 2013 for SSGU, I had always wanted to take it out for some legit pictures. Discussed it with Myer, but I was just too overwhelmed with work and school back then to even make time for it. After I had the car repainted in April of last year for our 2nd installment of Autofiesta, new plans were arranged to finally get it done. When I was about ready, I snapped a wheel stud. I wasn't about to get pictures taken of a 15 lugged Integra. Reschedule. Fast-forward to a few weeks agoooo, Myer was chilling/vaping with us at Vapors Ville, located in the Bazaar 3 in the Compadres Mall (trade shameless plug for build haha) when I proposed another go. Luckily, he had just finished doing a Slammed Enuff shoot for Alvin from Team Guaranteed's FA5 and was still on his car shoot high. He told me to hit him up when I was a 100% ready.
That following weekend, we were driving to three different locations for three different cars.
Enough of the blah blah blahs.. Check out the Civics of my dudes- Team Ghost-Art and Team Ghost-Novelle. And then some of my trashy Integra! 😛
The pics are posted in the same order they were taken, putting Art Quejado's 1999 Civic Sedan up first.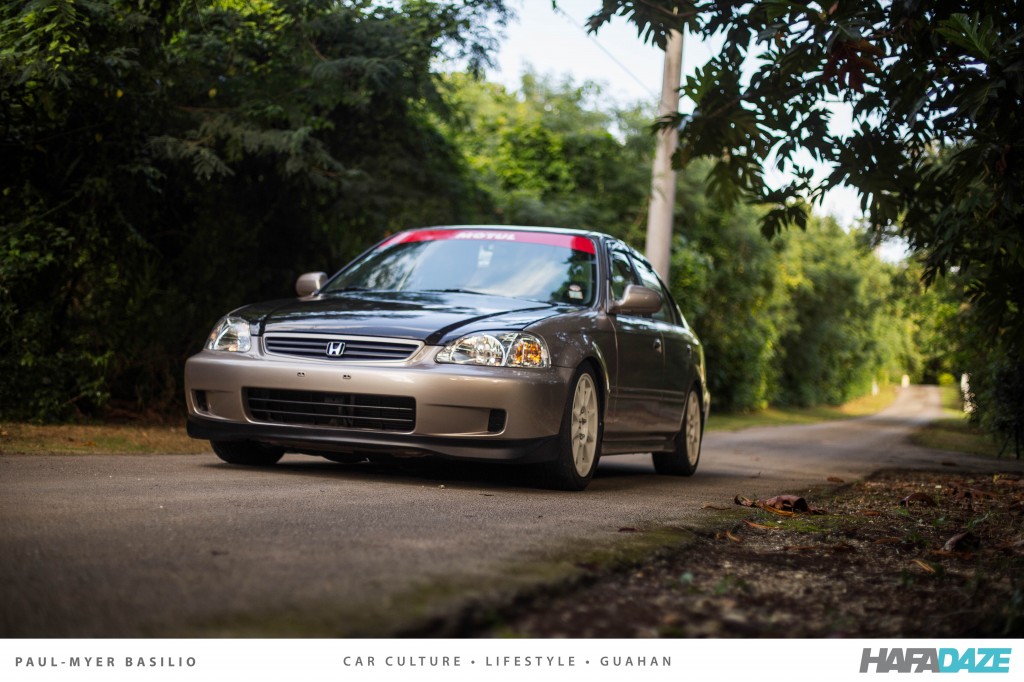 All original everything, even the GD3 Fit front lip (the only thing I would change on the car is for it to be color-matched like the rest of it).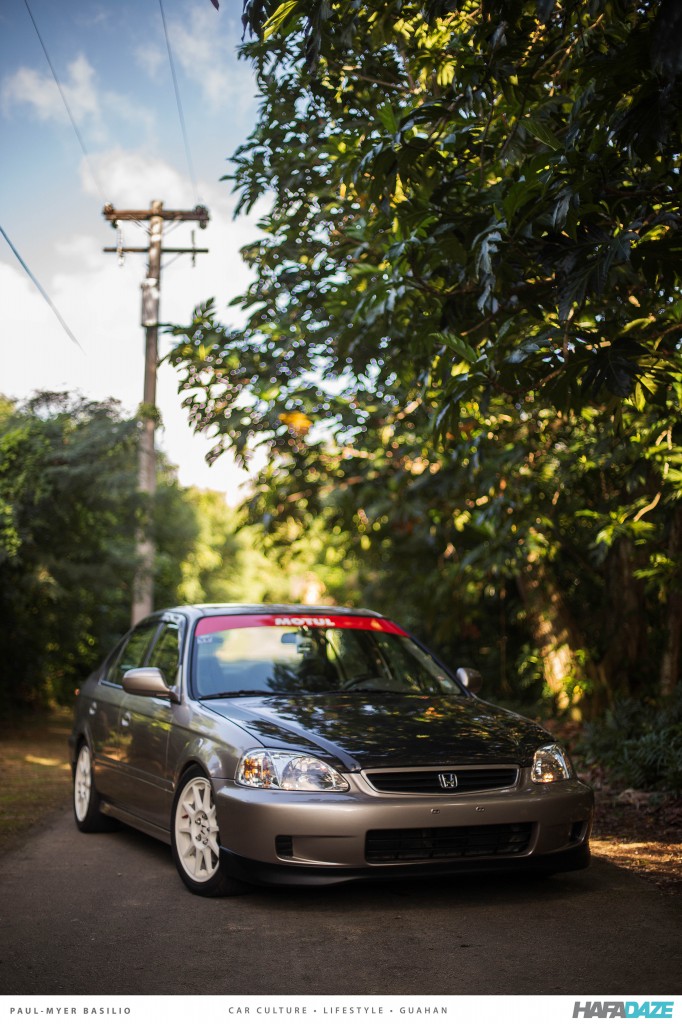 If the scenery is familiar to you, you either own a lot of properties in Tumon, or you recognized it from when Jason Cabigting shot his old Civic for Stance:Nation.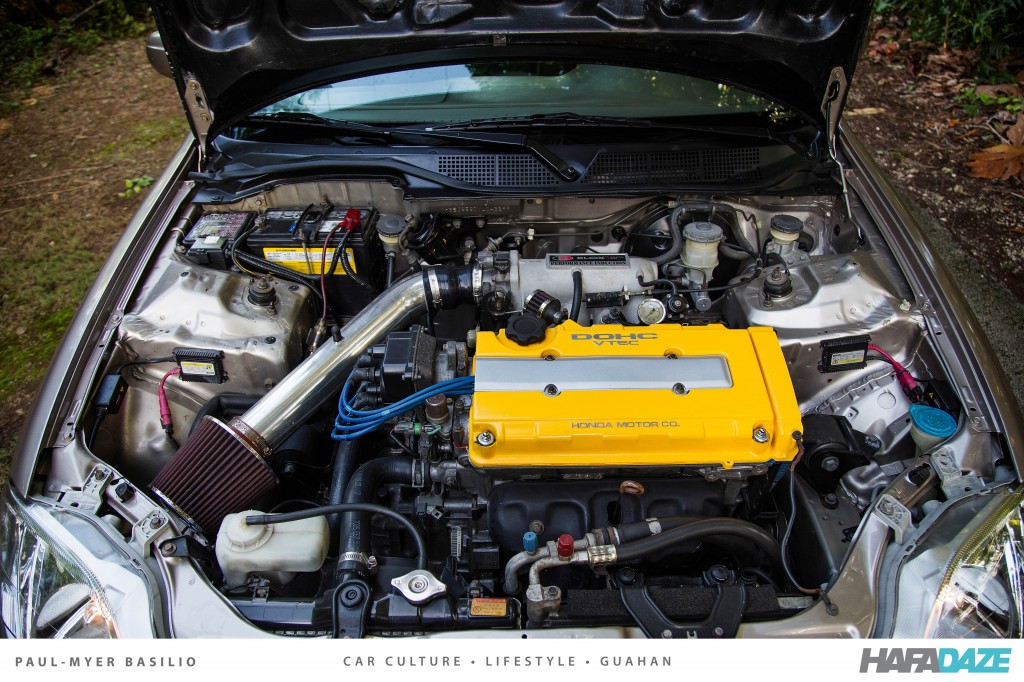 You probably would have never assumed if you saw this car parked at White Market or something, but it does have a full GS-R swap.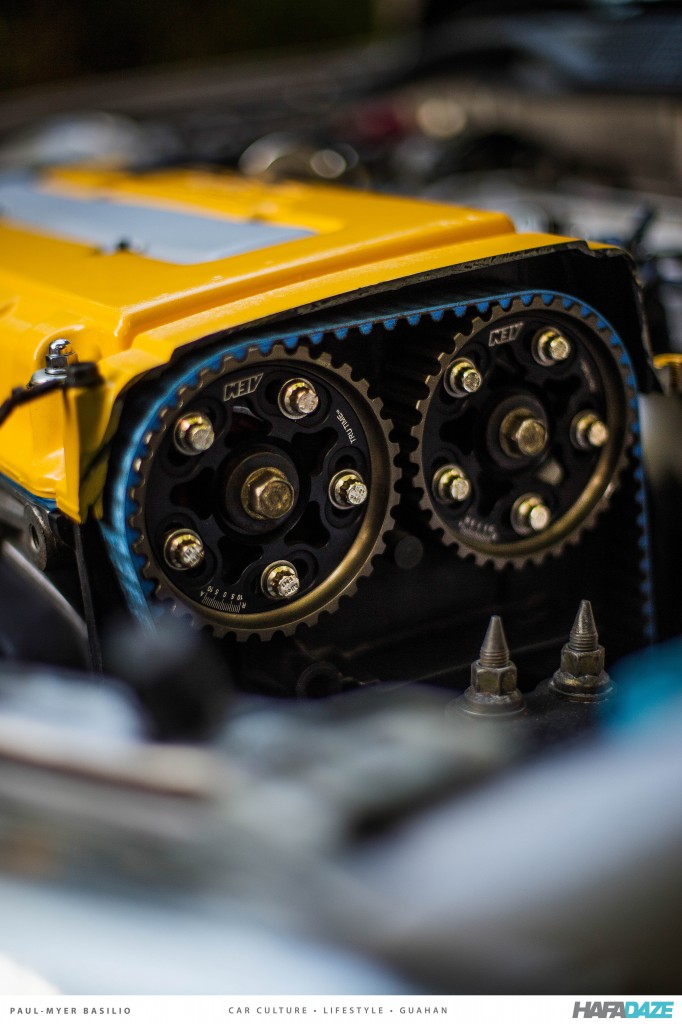 Tested and proven, non-slip 5-bolt AEM cam gears.
Just the right mix, says the custom mounted AEM UEGO wideband.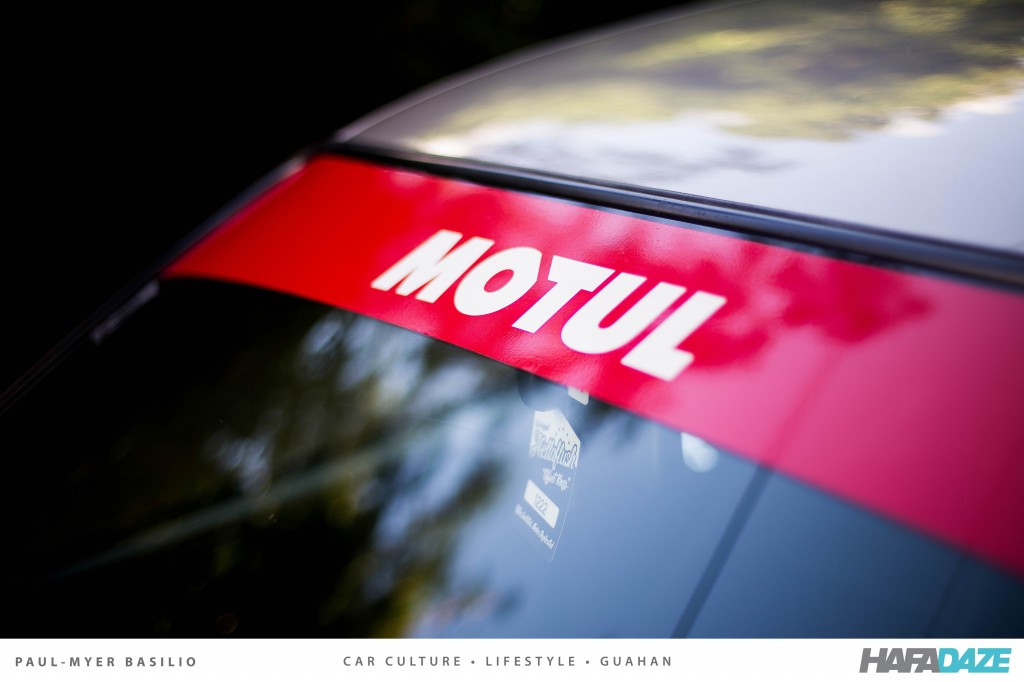 Spoon replica valvecover, Motul windshield banner, LXi headlamps.. Not necessarily JDM, Motul lubricants is actually of French origin, but a theme heavily admired by in the Philippine automotive scene- Art's main inspiration for building the DX. It's almost an exact imitation of what people do with their four doors over there.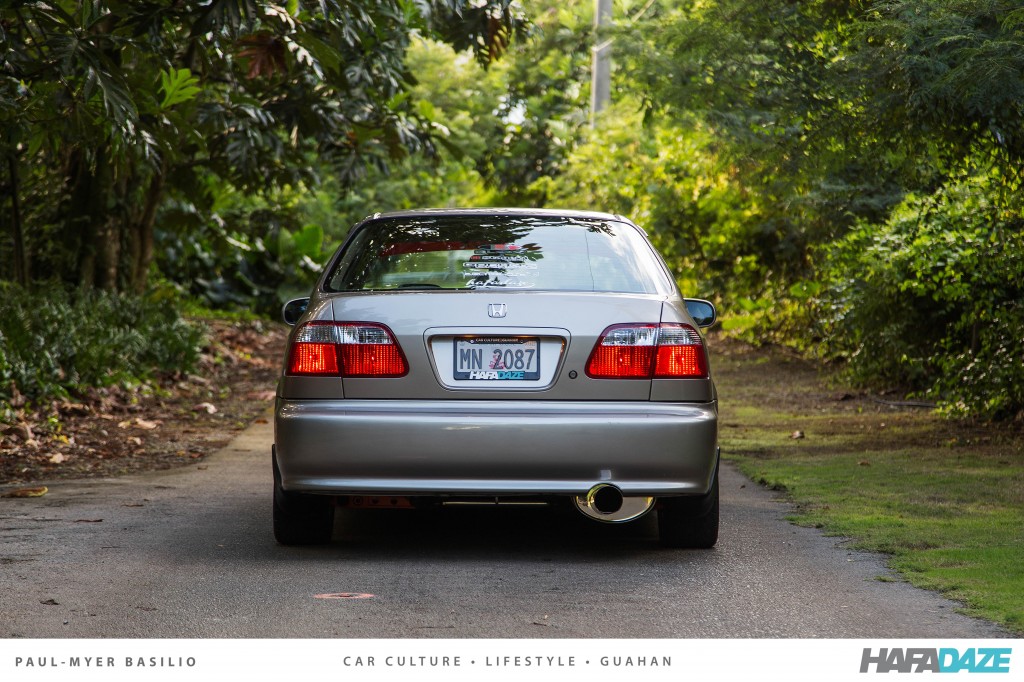 Fam reppin' fam! Just to clear things up, no, I am not an official Team Ghost member. Better yet, Art and Novelle have become family to me. Well before Hafadaze came about, and even before I joined Menace 2 Society in 2004, Art and Novelle were already my daaawgs.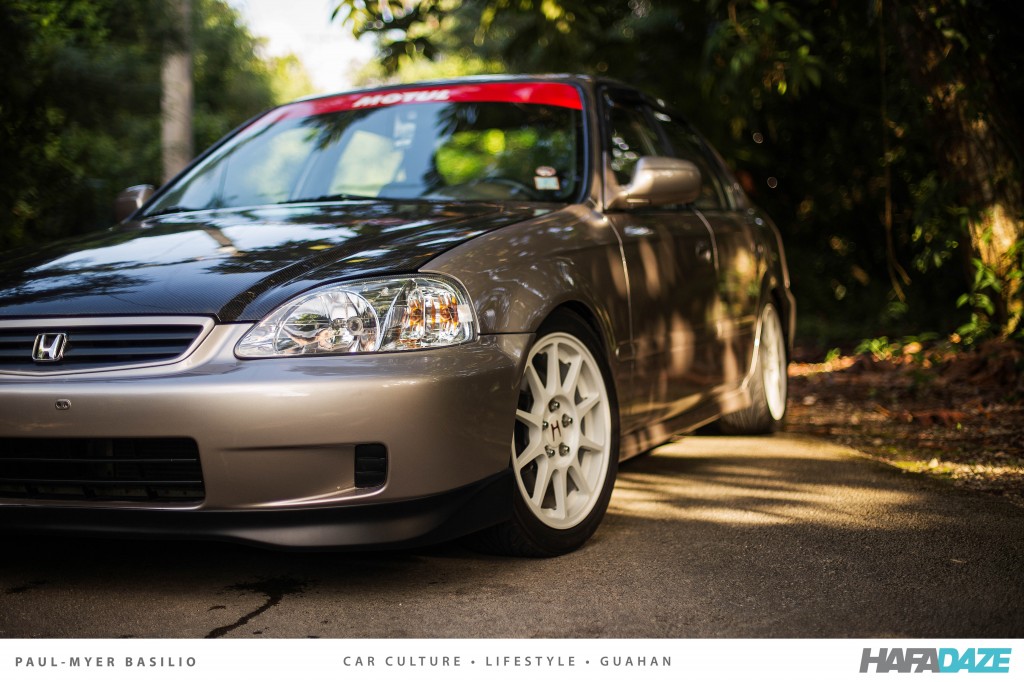 Glad this guy picked up something like this for a project. He was actually one of the two guys, Journey Beltran being the other, responsible for bringing me deep into the scene, so I am pleased that he didn't get caught up with the stretching of tires phenomenon. Through the years we've always had similar set ups- body kits in high school, drag racing and Rotas in college, IS300s after college, and now this- function. Functionish for mine at least. 🙁
After the Tumon shoot, we fueled up and headed to our next destination.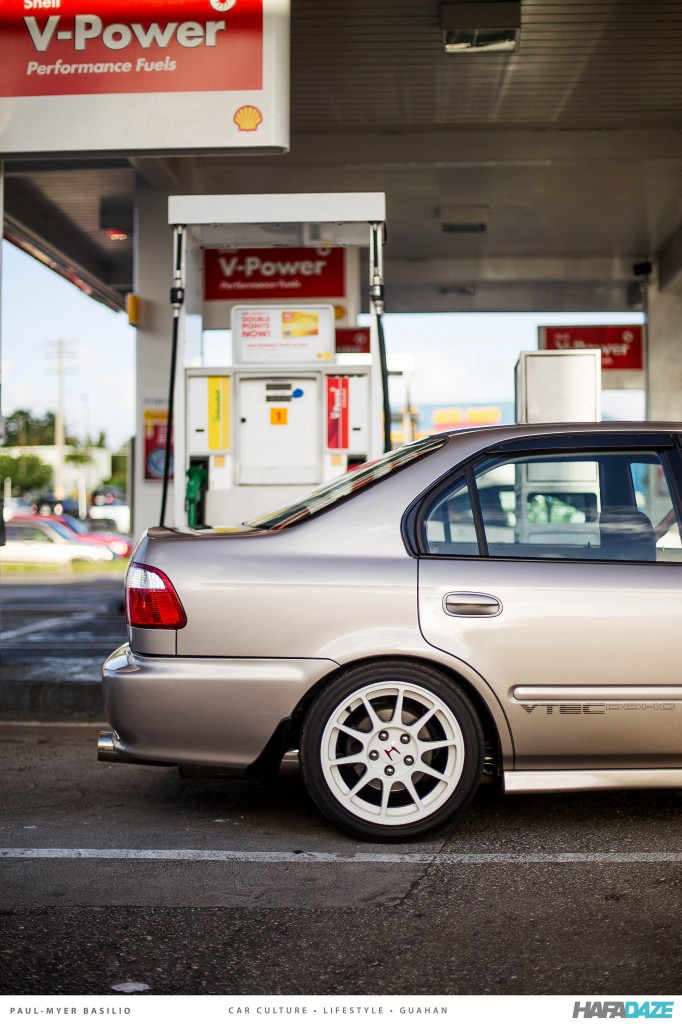 This is my jam! I mean, I think it's cool how there are people out there who really get down and dirty with the science of closing wheel gaps. They are those who precisely calculate every aspect of their suspension, from width and offset, to camber degrees and ride height.. Not those who buy the widest wheels possible and call it a day. You can talk to HFDZ-Juan about that after he slaps on his gold 18×11 STRs. I just love '98 spec ITRs!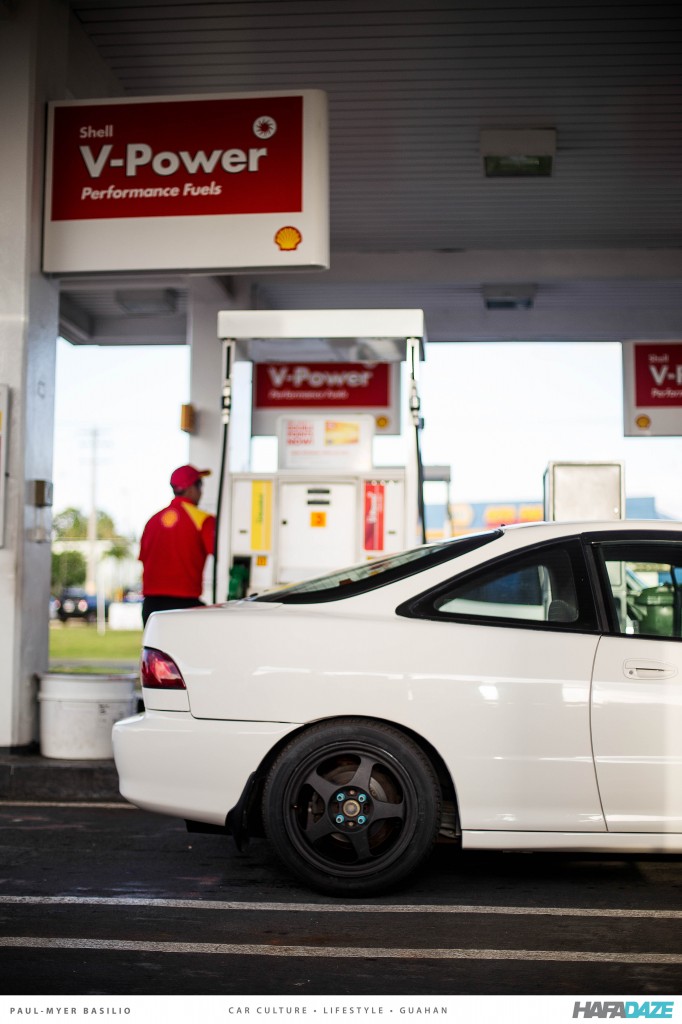 Says the Rota owner 🙁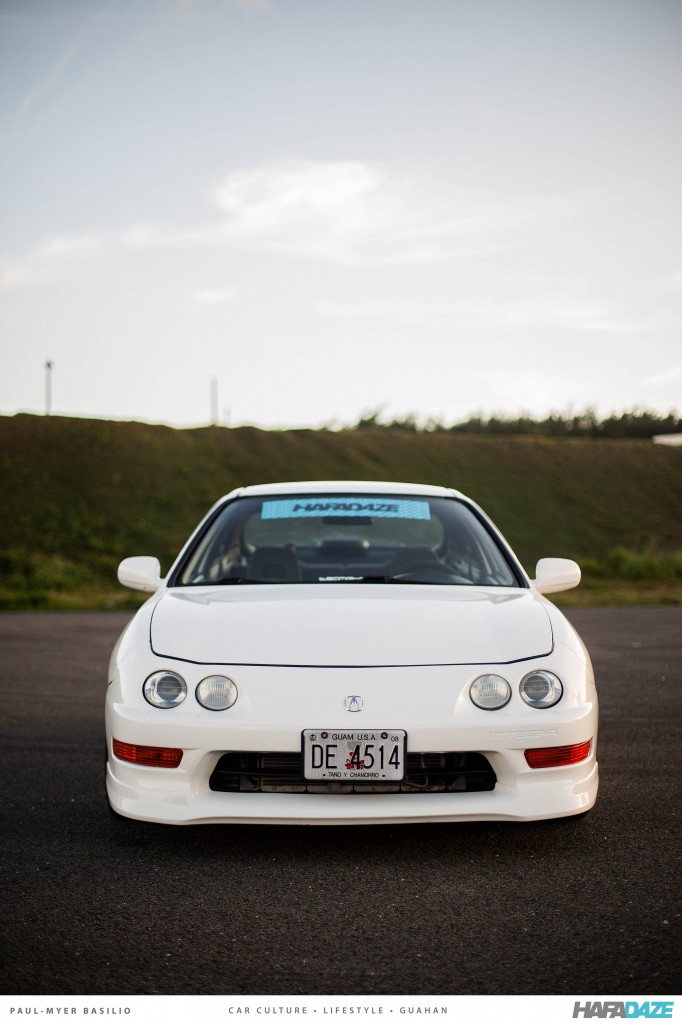 Next spot for the slowest car of the bunch.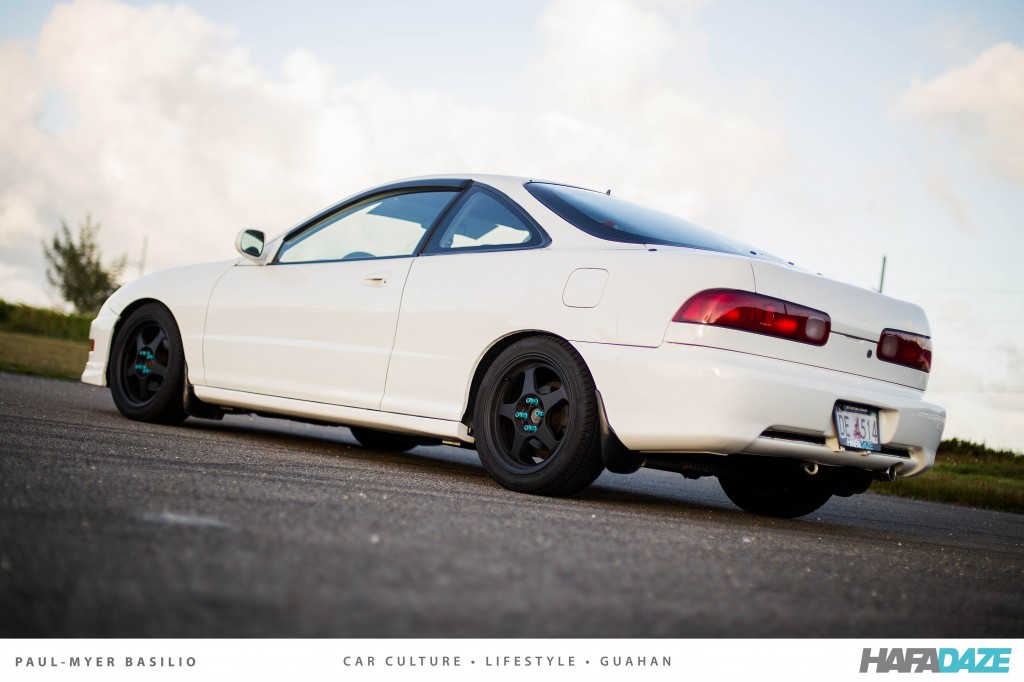 NH0 from Redline Motorsports.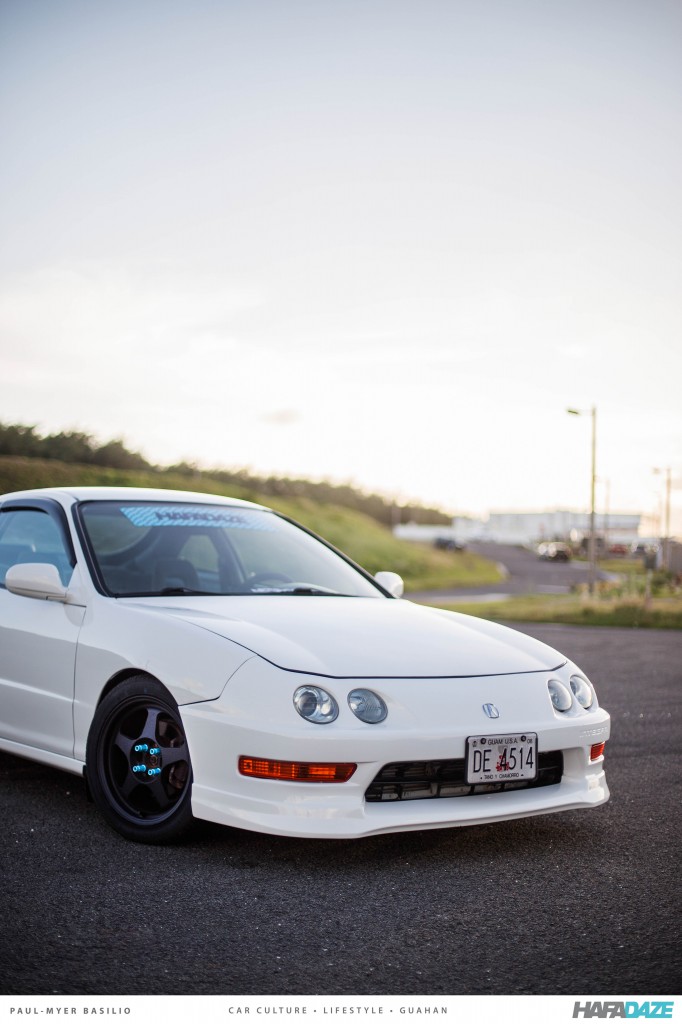 Tiffany Function&Form lugnuts to match the banner.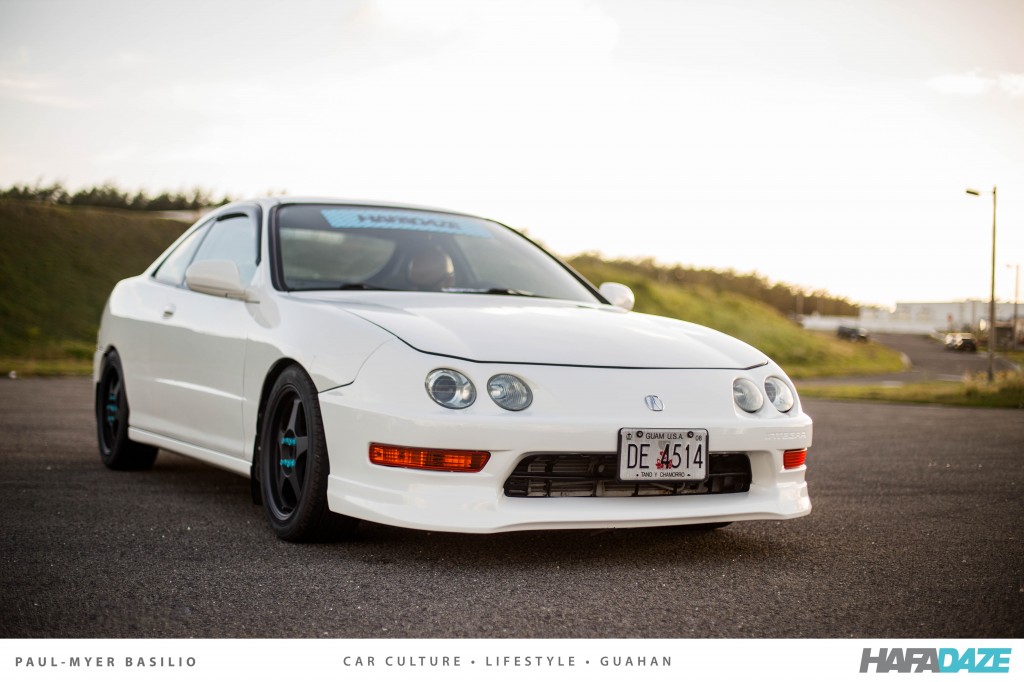 Didn't stay there too long because Myer wanted to catch the sunset for Novelle's pics at another place in Tiyan. Although it doesn't look like it, we underestimated the short drive and had gotten there after the sun had already set. I don't know what wizardry Myer had done with the pictures, but I was there and can distinctly remember it being already behind the mountains as I was driving in.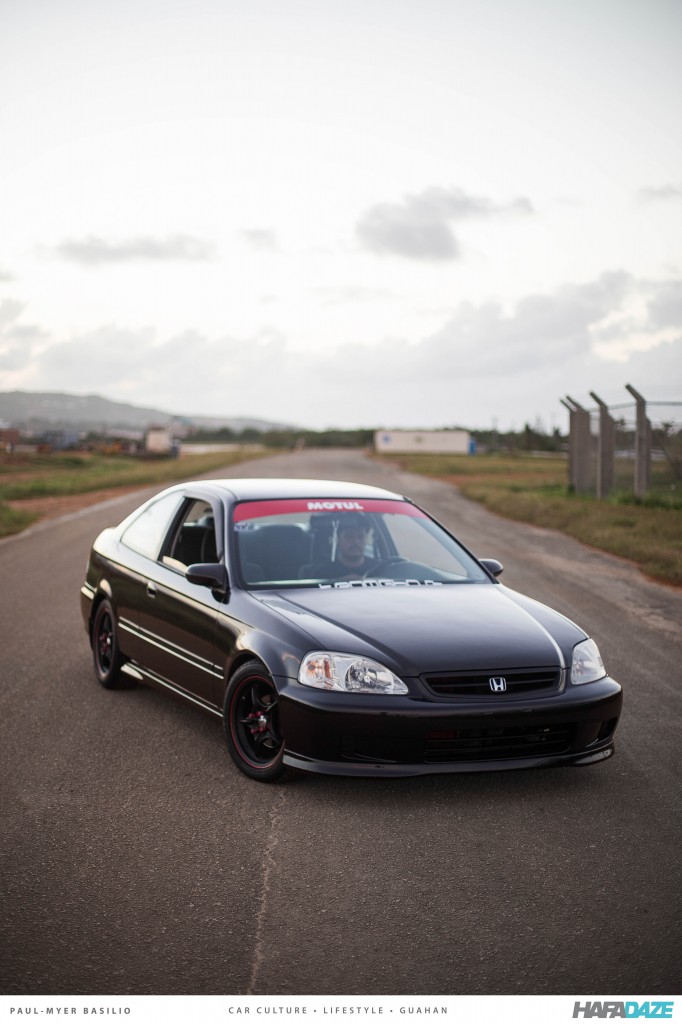 Novelle Rosello's 2000 Civic Coupe.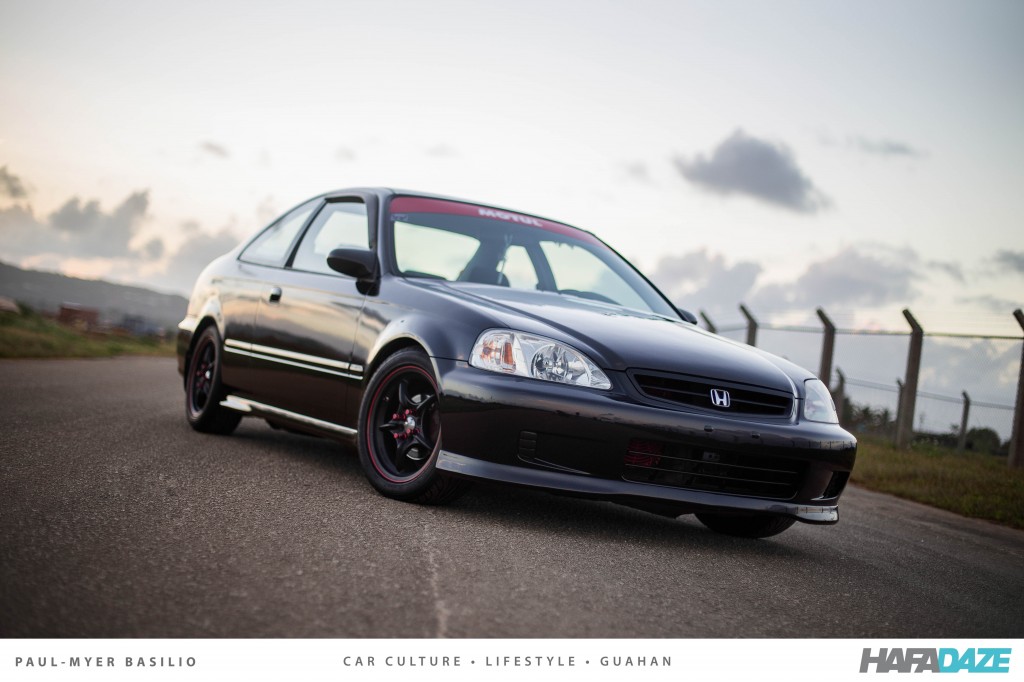 Mugens borrowed from our bossing JD San Pedro.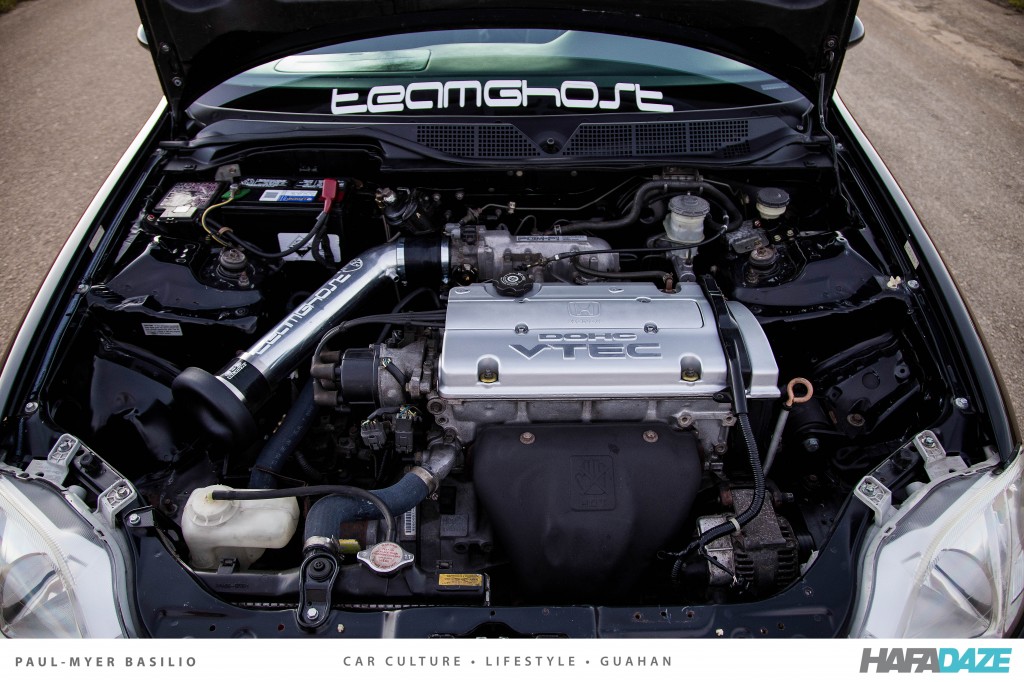 Boo! H22A1 w/ LSD in a rather cleanly done bay. No crazy tucks or flashy paint or anything, just the factory goodness, freshened up with good old Joy. He has to flatten out a few more kinks 'till this thing makes some shakedowns at the track.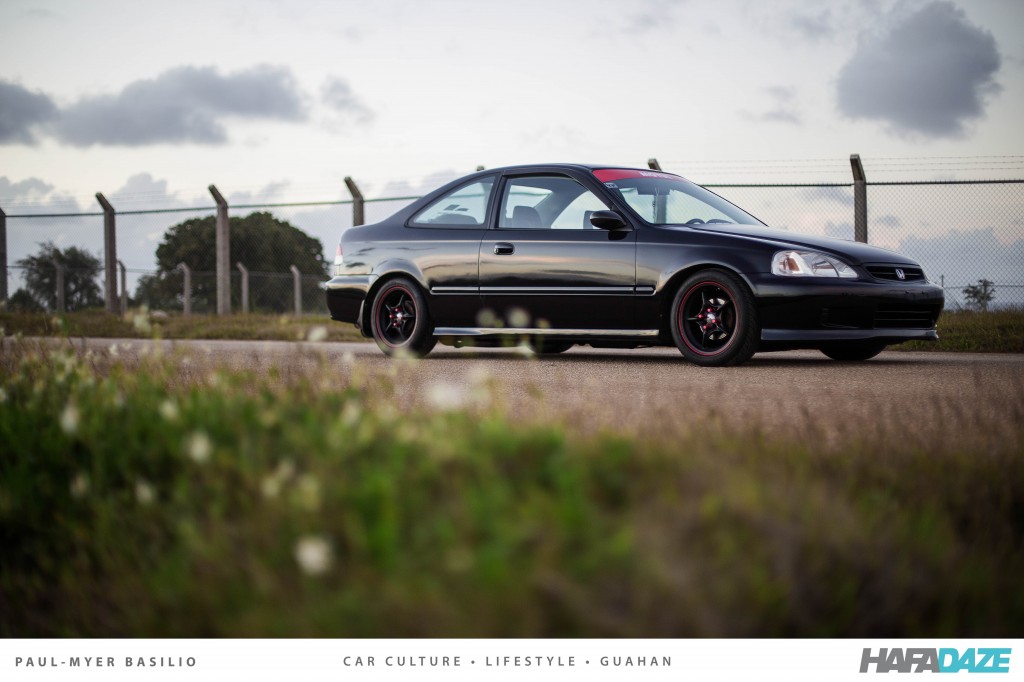 Flamenco Black Pearl, Em1 lip, Spoon replica mirrors, OE rain guards, RNRs- Honda by association.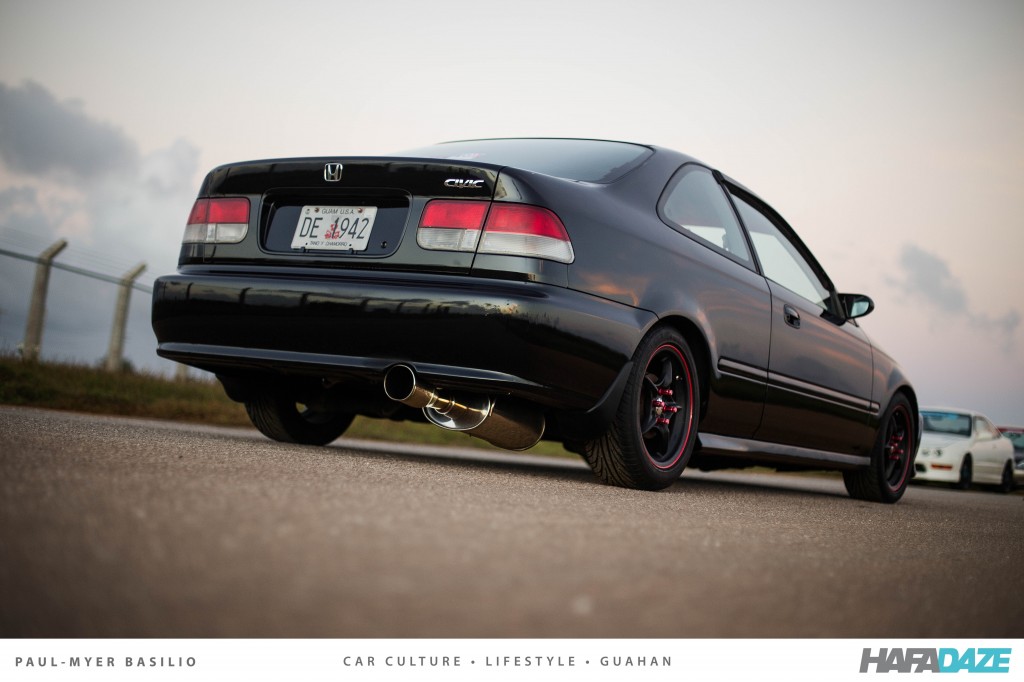 Greddy SP2. Remember when this style of an exhaust was what everyone wanted? I'd still take rock one any day.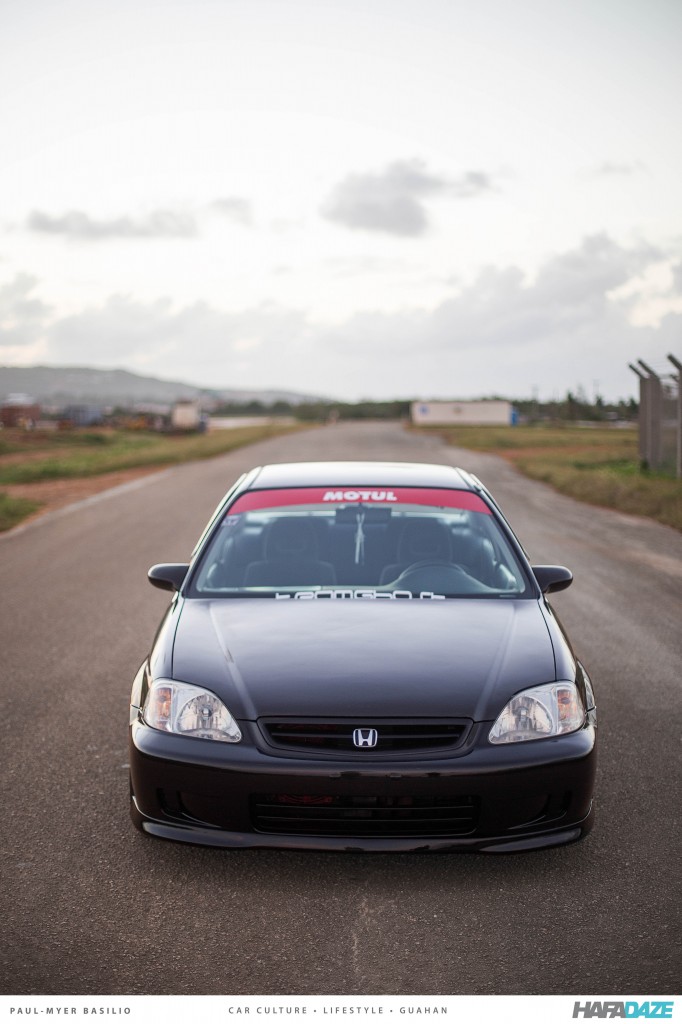 Myer wanted to do some light painting up there in Tiyan but as he was getting started, his charge block was failing. We decided to go somewhere for dinner so he could plug in while we ate. After some curry and karage at Arashi, back to the loop we went.
If you don't know what light painting is, think back at the time when you would leave the shutter out for  long exposures and then air write your name with a hand-held light source. The result would be a photo of your name written out with the light. The same goes with car shoots, this time, highlighting the subject itself. Great alternative to setting up numerous strobes and flashes that wouldn't even fit in Myer's S2000 haha.
I won't even say anything for these last pics.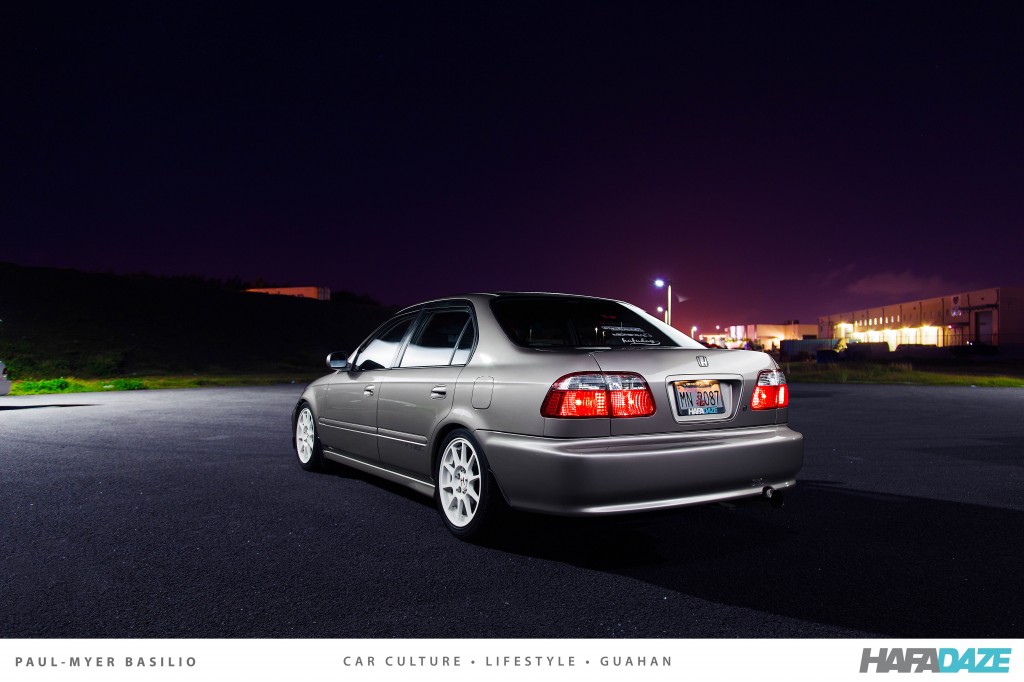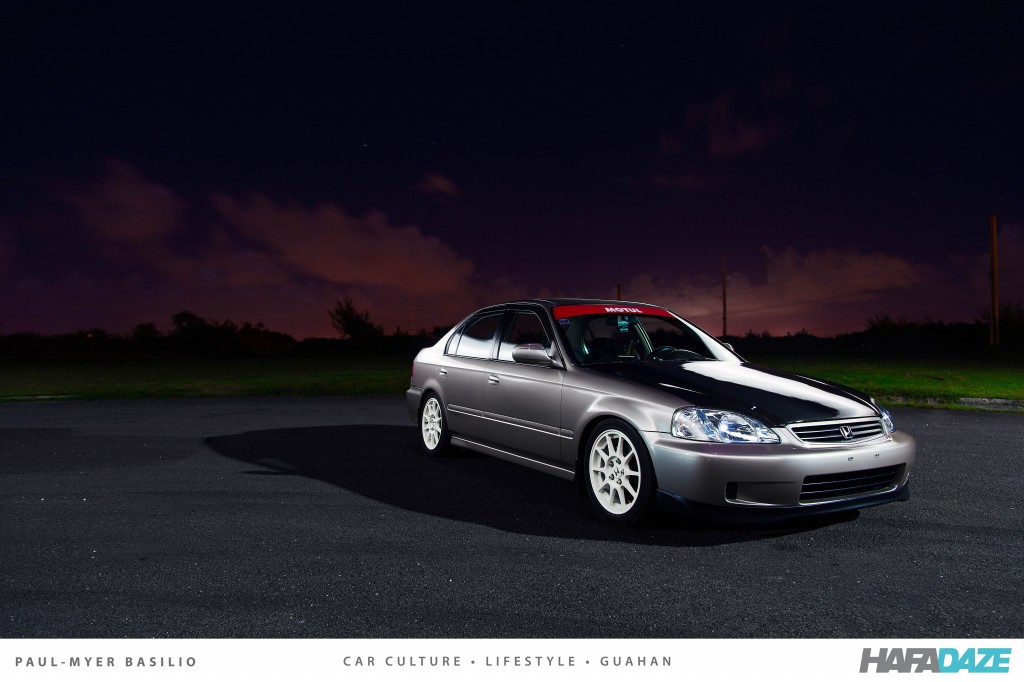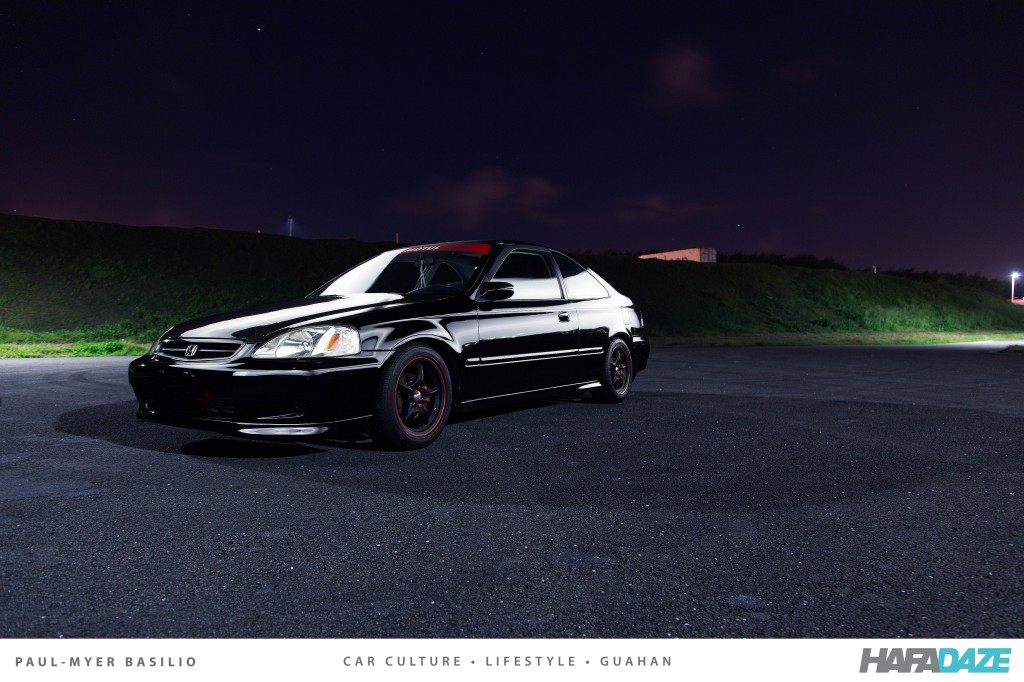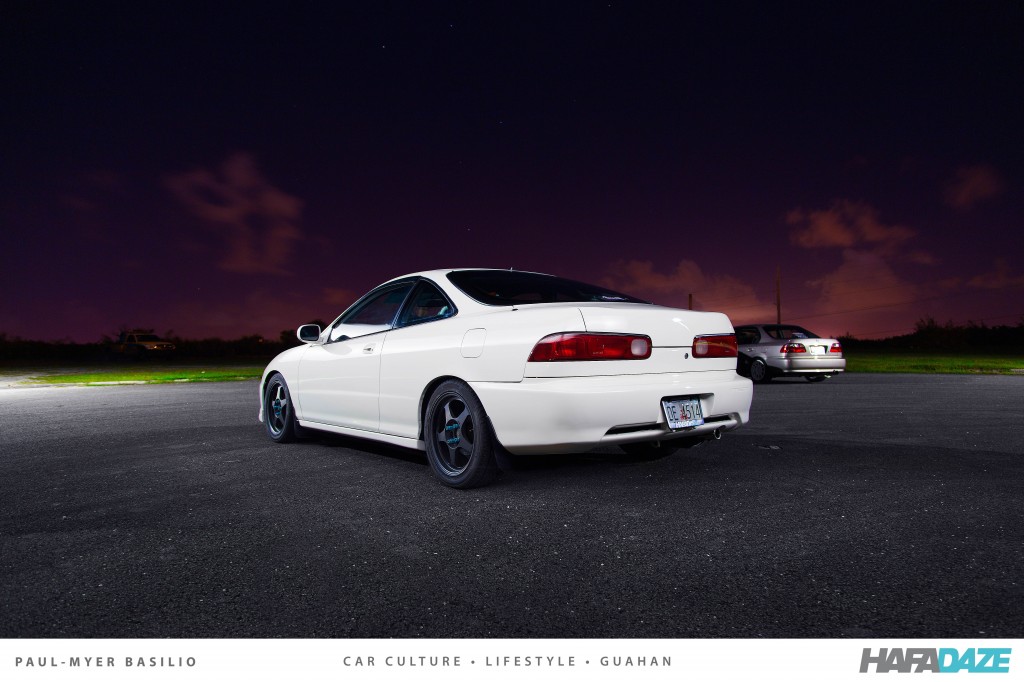 His work speaks for itself.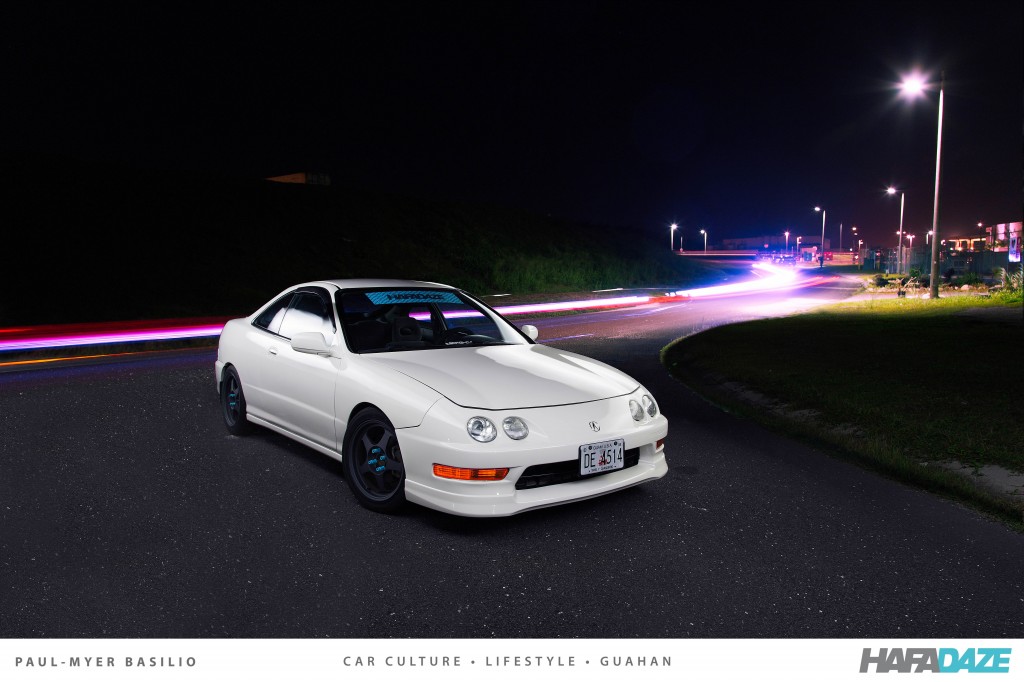 I told you he was good. Thanks again, bud!
And thanks to everyone else for reading!
Manana!
PS. Lmk if you want to buy the Integra lol!
-JME