Welcome back to Part Dos of our exclusive coverage of Offset Kings Guam 2016… In case you missed part one, catch up here…
Quick shot of the drift show put on by the local drifting group. This year's event didn't happen to coincide with any scheduled competition so they just had a friendly exhibition. Their driving skills have come a long way and it really shows…
The John Dank Show was live on stage during the event…
As was the homie, DJ Sylnt…
Czyz brought out his sleek M3… Love the contrasting red on his rims… I remember taking a closer look and specifically making it a point to note the brand of his rims cuz I knew this car was gonna make it on our coverage… but the name completely escapes me. lol
Subie on what may be Enkei RPF1s…
Another Subie… This time a BRZ owned by Ryu – one of my favorites from last year that remains on my "I wish that was mine" list this year. Nothing too fancy, just some subtle, tasteful mods. Love those TE37SLs!
Midori green Civic…
Super dumped Scion TC from MTX…
Nice to see this bike out again from Team Illicit… It's on air too… Such a cool build.
Drift monsters were posted up on the show side this time around.
Reppin' up Team Proline.
Don't see too many people fixing up these Preludes anymore… Nice to see this one done up.
One of three R32s at OKGU… Depending on the year, Skylines (and any other car) are now being legally imported – as long as they are 25 years old… I'm guessing this one is a 1990 model because 2015 minus 25 is 1990. lol

Speaking of older cars… here's a Hachi Roku (I think) from MTX… It ended up taking home the Best Vintage ride of the night.
Also from MTX… Art's Lexus RCF. Such a baller ride…
…and another baller ride from Nate Valencia… Props to this guy for sticking with the build and making subtle changes here and there… the most obvious being the wheels. He also ended up changing his interior to all Junction Produce goodies. Nate ended up taking home 2nd Place honors in the heavy hitting VIP field of cars. Next up, 2016 Guam National Fitness Championships breh! 😉
Skyler's Infiniti Q50s with some wild fitment…
Rex Deseo's real deal Holyfield Aristo… Which is now also on bags.
No big changes to Renz's G35 this time around, but definitely still looking good…
Pretty cool looking XB… I do see some of these modded on our roads… but this is definitely one of the nicer ones.
The Honda "show" scene isn't as big as it was a few years ago… but I can always appreciate one with straight body panels and legit wheels… lol
Civic SI with a JDM rear conversion sitting on what I think are Mugen GP wheels…
Not a bad looking Accord… Same rims I think as the next car here..
this 240 from S-Chassis Guam – A fairly new group that I recently discovered on Instagram…They came out with a field of 240s this year.
Check this ride also from the S-Chassis crew… I always get a kick out of this guy's windshield banner: "HIDE YOUR DAUGHTERS." I believe it belongs to Mr. Luke Sos also known as Mr. International Guam… so he might really mean what the banner says… leche lol

Ending today's coverage with a snap of Markster's FRS on some bronze VIP Modulars… He ended up taking home best Scion of the night. Love the vibe this dude is bringing to the scene – he's always friendly and doesn't have that stuck up attitude. He also happens to be the mastermind behind the recent "TFTI" meets that were happening at random meet spots on random nights… they kinda reminded me about the GU'NITEZ. Keep it bro, we need more peeps like you in our local scene!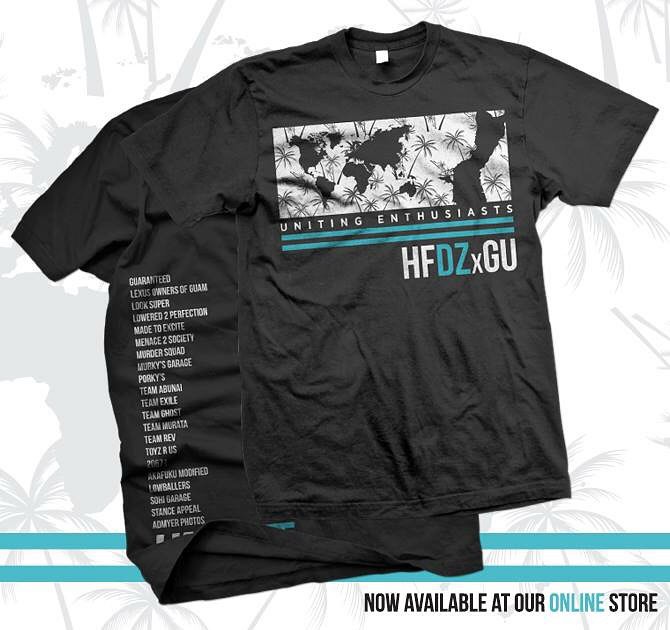 Don't forget!! The UNITING ENTHUSIASTS// tee is now available on our online store. Get yours now before they're all gone… Thank you to those who have already placed their orders!
Lots more coverage to go… Be back with more in a bit!
esta.