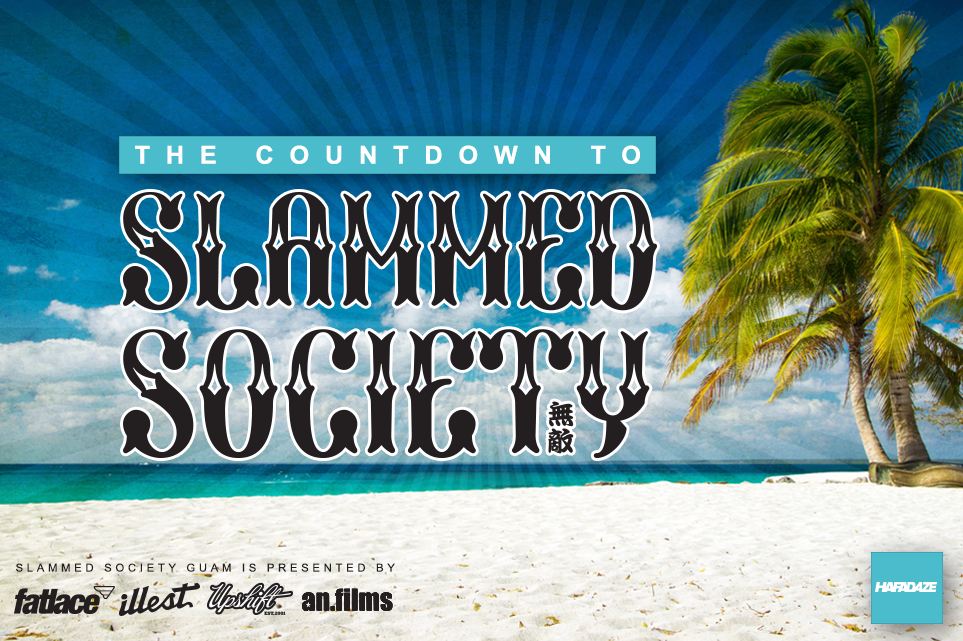 Last weekend we started the countdown to SLAMMED SOCIETY GUAM 2013 presented by UPShiftEnt, Fatlace, ANFilms, and illest. I thought it would be a great idea to take a look back at where Guam's car show scene has come from and evolved into the past 10 or so years. I'm glad you all enjoyed the read and I hope to continue these throwbacks until we reach SSGU on December 14, 2013.
We last left off at Island Import Night 2005 at the Guam International Raceway. I was going through my photos and found an album of the CrossFive "X5" Supershow (which is a car show from Japan; look it up!) that was held in Tiyan in June of that same year. Remember when I said we had multiple shows during the year? This was one of them. X5, AutoJam, and Import Night… all in the same year… all with $50 vehicle entry fees… all with thousands more spent on the car itself. We were ballin' back then! lol As we take a look at the coverage, I'm proud to say that even though our island tuner community is pretty small compared to the larger scene stateside and elsewhere – we all know that we can do it just as well and in some cases better than they can!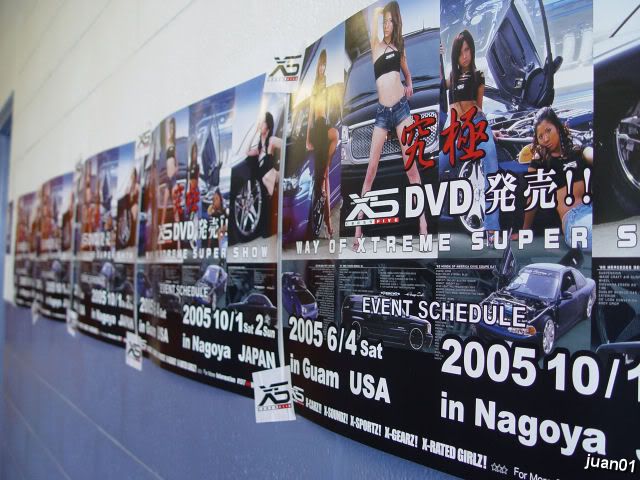 X5 is a branded show from Japan (kinda like how Hot Import Nights is from the states); It was brought to Guam by Tom Akigami and crew… and it definitely had some awesome production value that made for some great times for car owners and show goers at the time. This particular event took place at an airplane hangar in Tiyan, which was really cool because it was indoors which was awesome because being out in the hot sun all day (and sometimes in the rain too) prepping your car was a pretty taxing process.
Just a quick look at some of the cars in the building…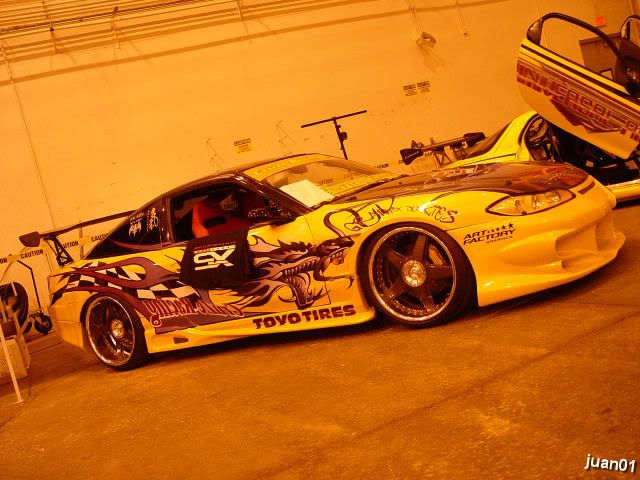 This particular show featured a lineup of cars shipped in from Japan… including this 240.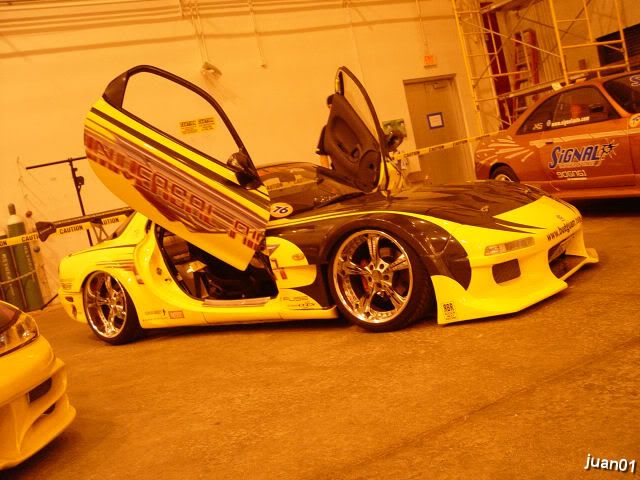 and this 240 from Universal Air… air as in air ride. Lambo doors, air suspension, wild eeerthang… but…
Do you even drift bro?
Like I mentioned last week, drifting was getting back on island and in conjunction with the actual car show a drift exhibition was held at the Raceway as well.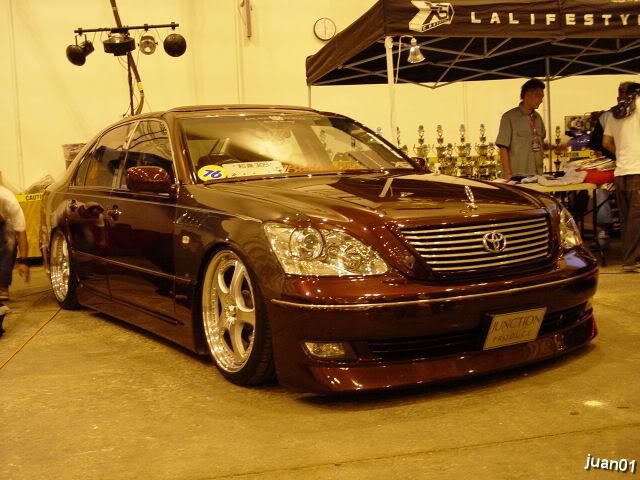 Another car from off-shores – this time a Junction Produce VIP themed LS; Another tuning style that has slowly caught on to Guam's tuners.
When you mention VIP on Guam, many will bring up the name of Steve Oku, here with his setup for this show. We worked with him also at AutoFiesta, a great guy who has contributed greatly to our scene.
A shot of MDR Motorsports/Peggy's Civic hatch; MDR was the place to get your parts back before we had the internet.
Boosted.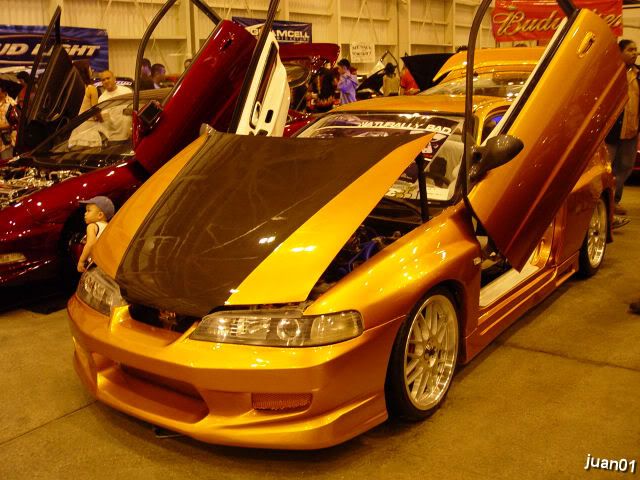 Remember that blue Integra from Part 1? Well here it is again… this time in orange.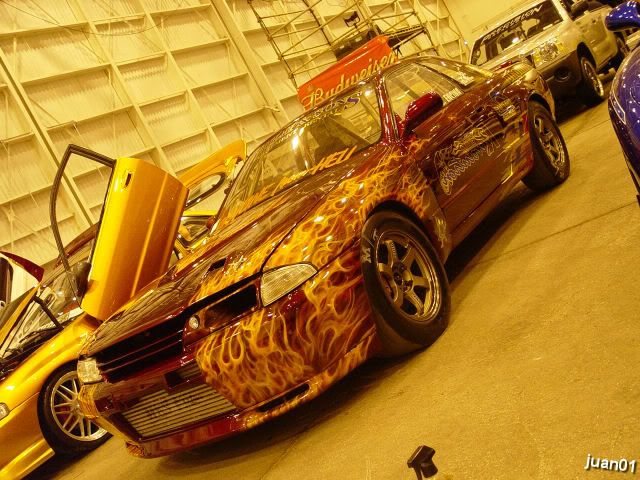 and right next to it was "The Skyline from Hell" from Ed Encina.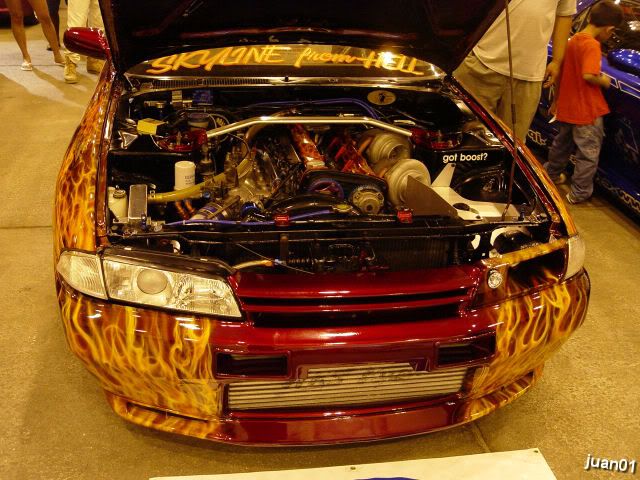 It was pulling a 9-second 1/4 mile with over 1000+hp. This car also got some stateside attention later, being featured on Modified Magazine. Don't know whatever happened to it though…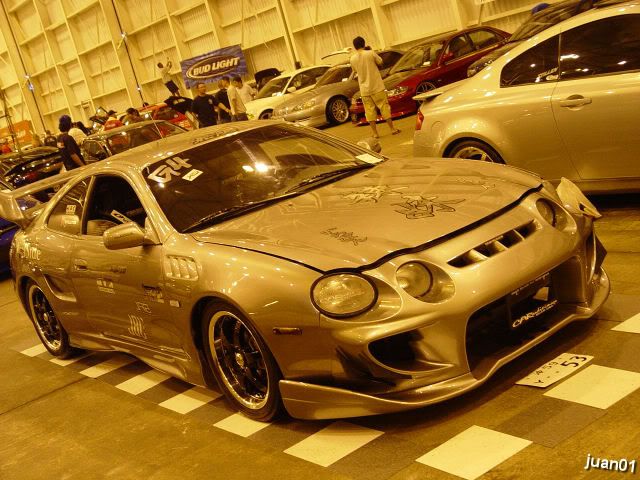 Don't lie… I know you all loved this Celica. I don't remember the name of the owner, but he used to live right off Marine Drive in Yigo. I really liked when he had it white with red rims… It had that crazy, tricked out, body-kitted, race-car look that was all the rage.
When I mentioned that we could do it just as well as our stateside counterparts… here's a perfect example – John Borja's Rx7. I think this car is still tucked away somewhere waiting for the right time to make it's return.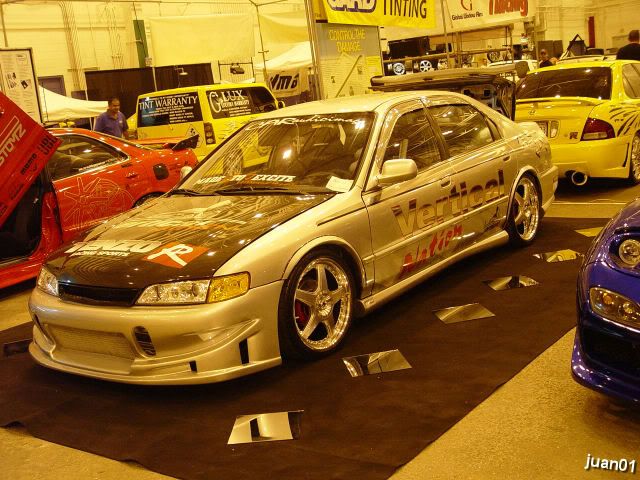 Lawrence Luces' Accord back in 2005… It's picked up many awards since then – including at our very own AutoFiesta;
Some of you probably know the Accord to look like this now…Pretty cool how he went from a the Buddy Club bumper to the Buddy Club 2 bumper. Just noticed that now. Also, look how the photo quality has changed! Leche!!
So that was 2005… Next up are some pics from Island Import Night 2006; I don't remember exactly what happened or how it went down – but the turnout for this particular show wasn't so great. It could have been that X5 2006 was coming up and car owners were holding off for that event. IIN show organizers even offered a cash prize of like $2,000 for the biggest club (by numbers) and like $1,000 for second place… something like that. M2S ended up winning first; It was cool but it kinda sucked because I remember having to split the 2 grand with like how many people.. so it turned out to be like $20 each. That blew. Anyway…
M2S~Herman's "NXTegupra" – I made that up. The car was actually a Nissan NX with an Integra "Showoff" bumper and with…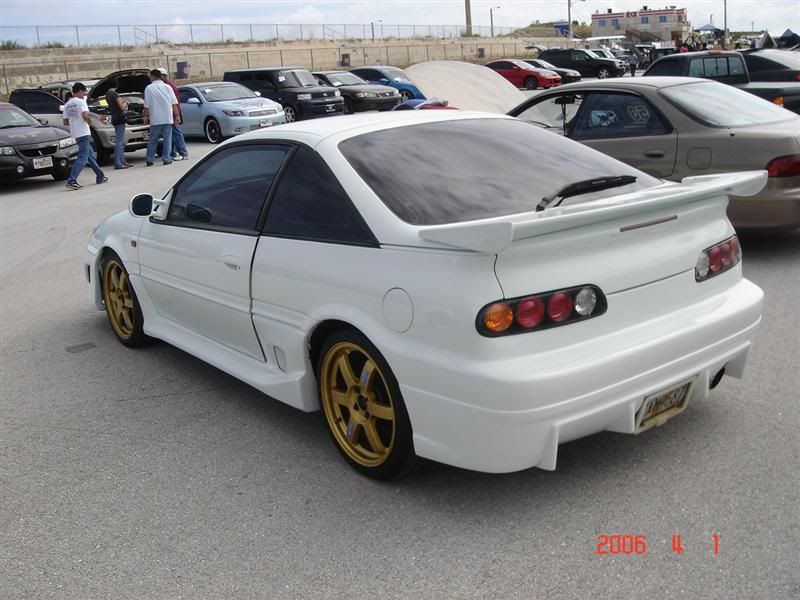 you guessed it… Supra tail lights and the ever famous Buddy Club rear bumper. It was pretty cool for what it was! We didn't see too many cars with conversions coming out anymore in 06. There was one crazier one though…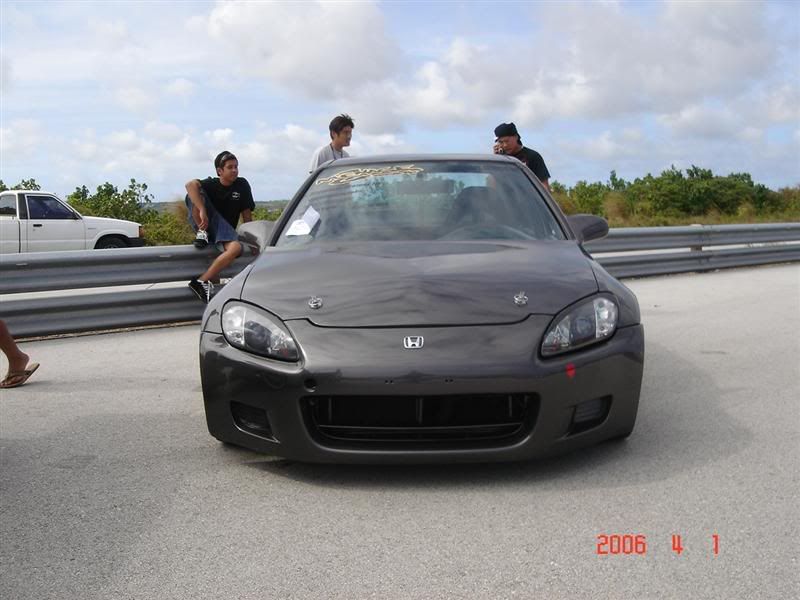 which was M2S~Aaron Dancel's "Sivic2000."
Didn't know what he was thinking… but props to him for giving it a go and doing most of the work himself. The tail-light looks like it's coming off because he wanted to show off how it slid sideways and how he had put the gas tank there.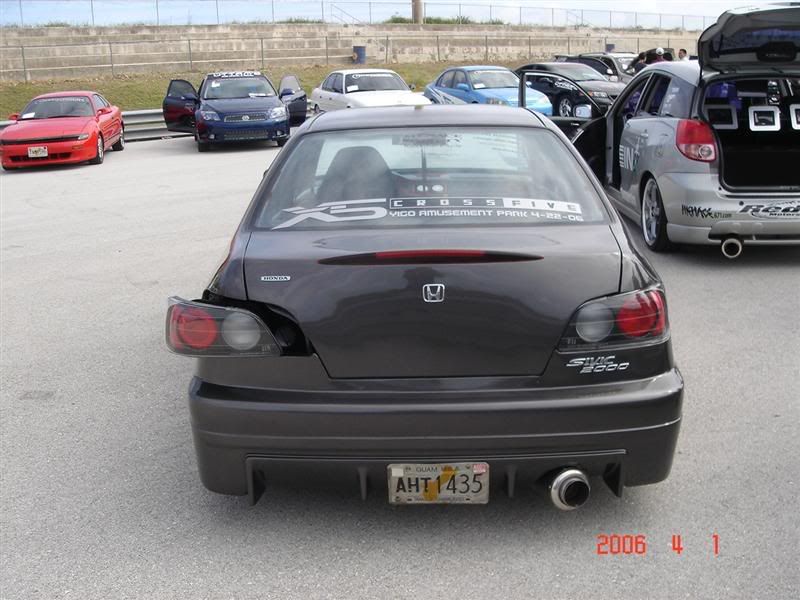 Finally, the rear view…S2000 tail-lights, 3rd brake light, and custom emblem! He had it covered… lol – and there's that again, that Buddy Club rear bumper.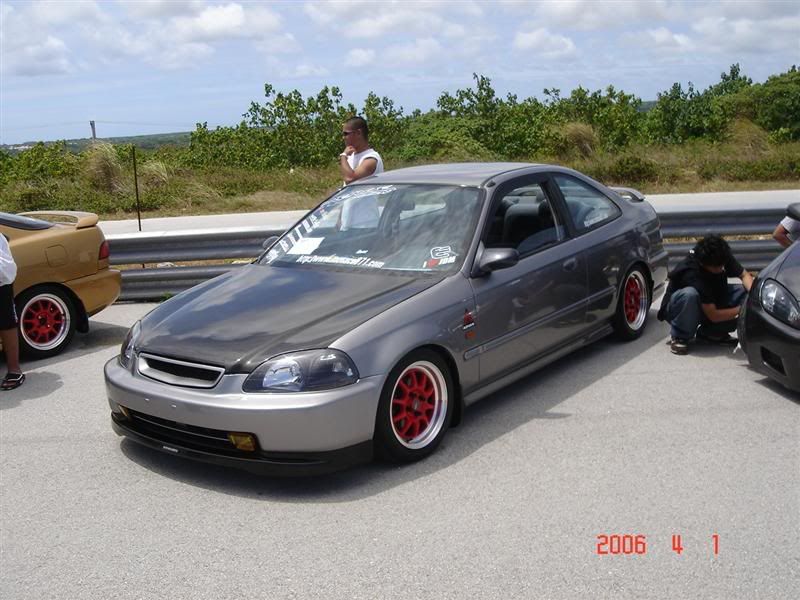 Will Buan's Civic on red Rota GT3s. I remember when everyone wanted this particular rim style and called them "Gabs" even when they were really Rotas.
Arnold's Spoon themed coupe and white sock.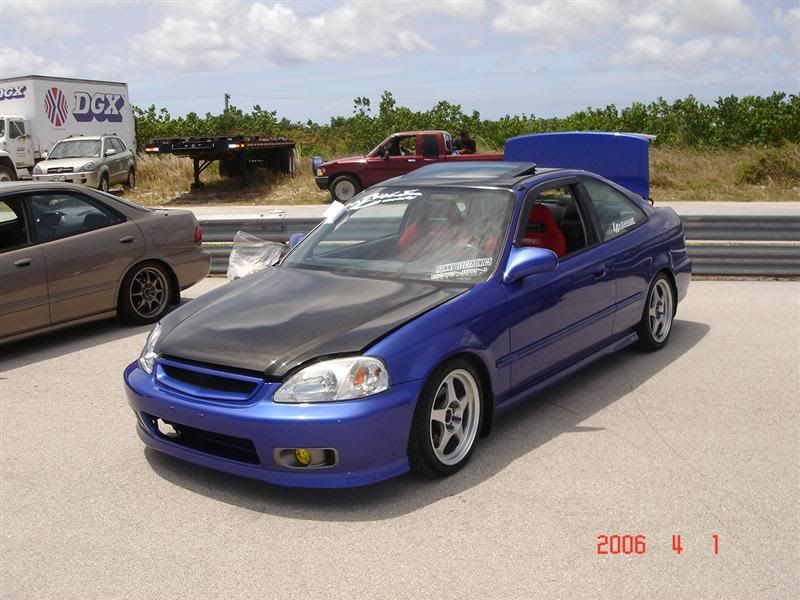 and my old Civic SI; which happened to be my first car show with this car! 🙁
As with these three Civics , more tuners were searching for "rare" Japanese-spec only parts that. Hence, the JDM category at our car shows was born around this time;
Now, let's take a look at coverage of the CrossFive (X5)  show 2006 at the old Yigo Amusement Park…
Jimmy Tsang's G35 in it's early days… It always had a great selection of parts on it and from what I can remember, took home awards at almost every show it was at.
A couple of RX7s from Team Abunai. Not sure who owned this… but hey I bet they used it to drift, drag, and daily drive.. Dangerous, right? 😉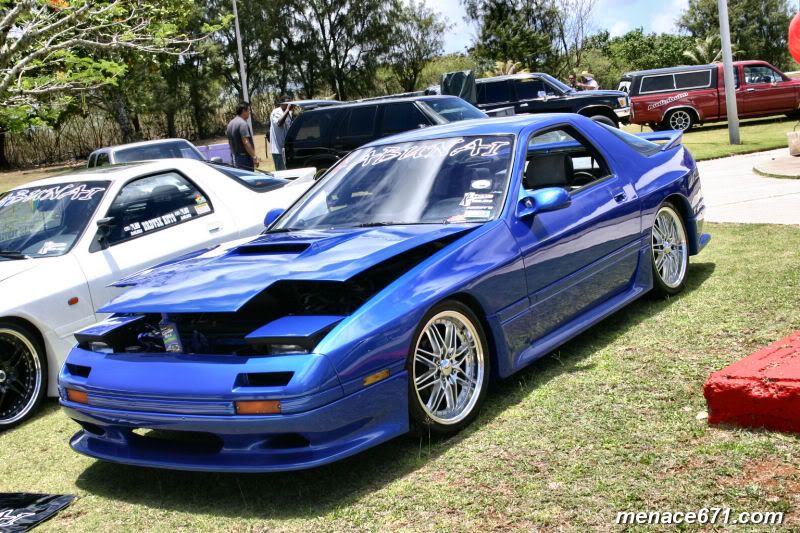 The 240 hoarder, Jimmy Mendoza, actually started out with this!
These were Abunai's early stages when they were still new to the scene… Nowadays, they are one of the top car clubs on Guam – even winning the "Best Car Club" award at the AutoFiesta earlier this year.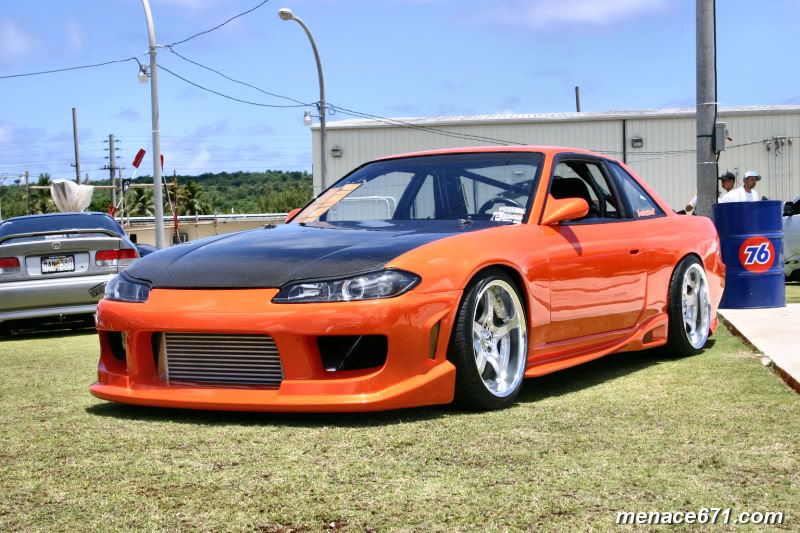 We hadn't seen any Kaotik cars at Island Import Night… but they came out hard with this 240 from Kevin Mesa.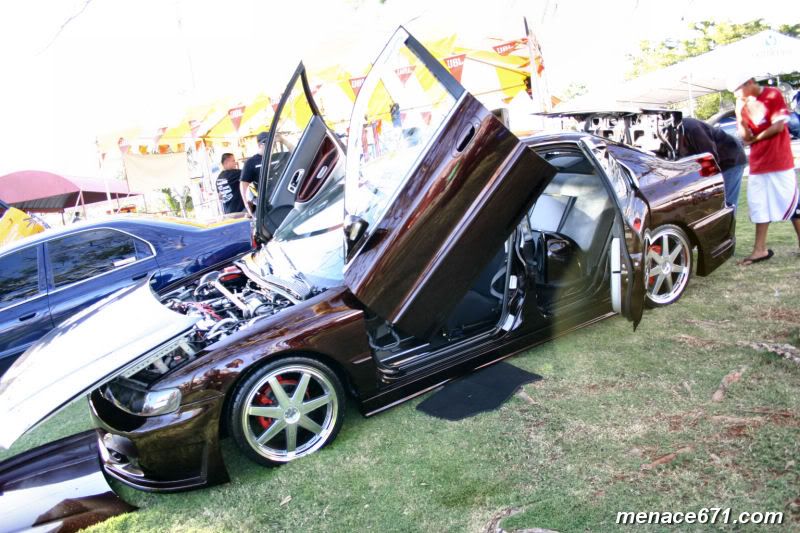 Yup, it's Lawrence Luces again… this was the first time he broke out the suicide doors and he definitely got lots of attention that night.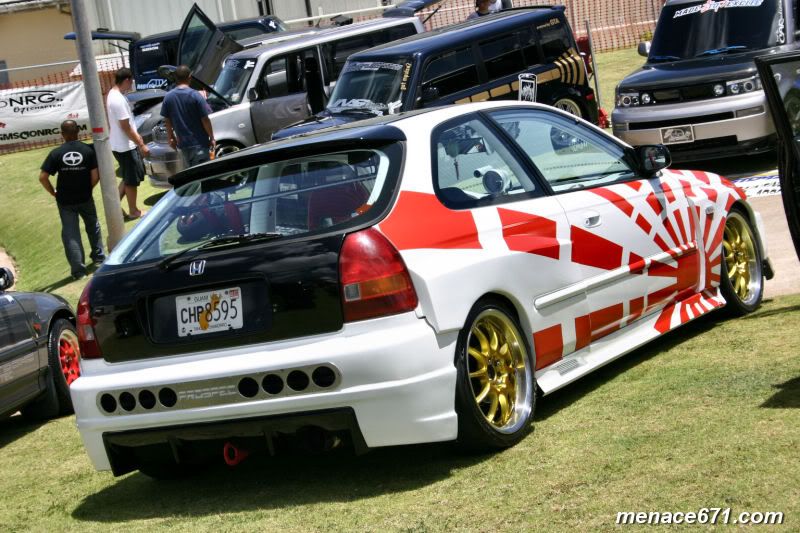 Random Civic hatch with the Feels style wide body fenders; Always thought those fenders were cool…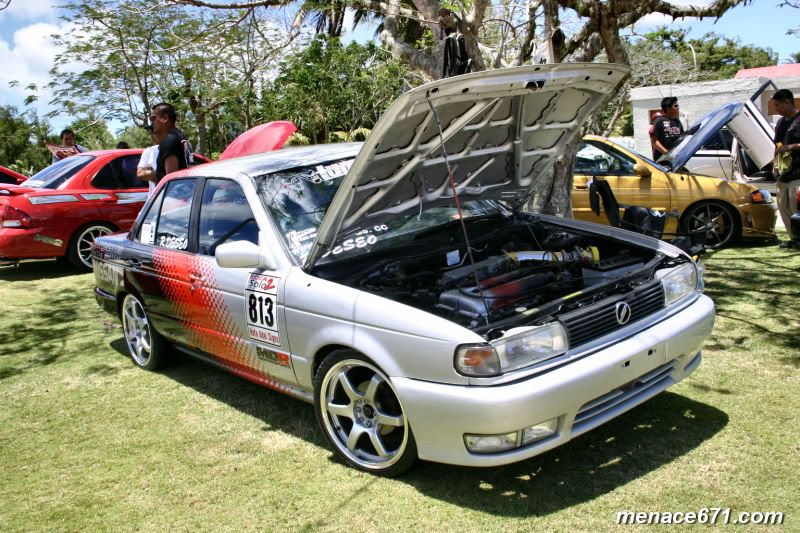 One of Rex "The Destroyer" Deseo's older projects… which he later destroyed, lol; Nissan SE-R themed Sentra.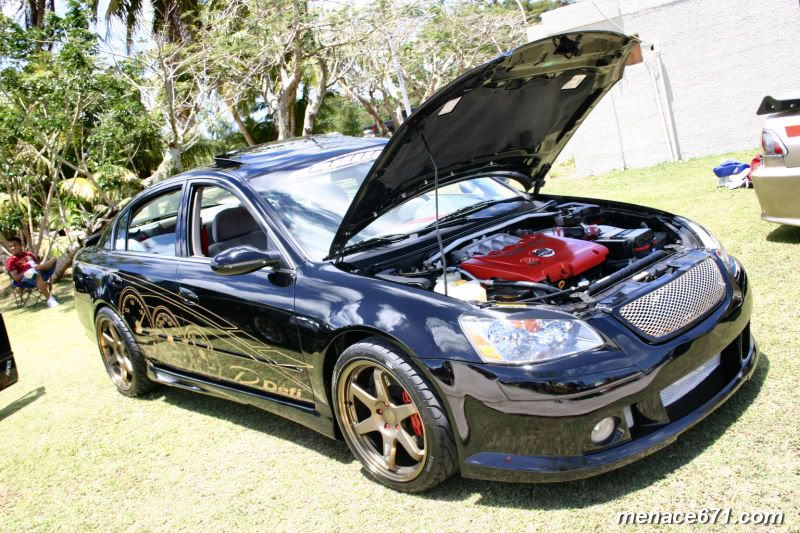 Eljiah's Altima on those aggressive fitting Te37s which he still has in the present time – and in great shape too!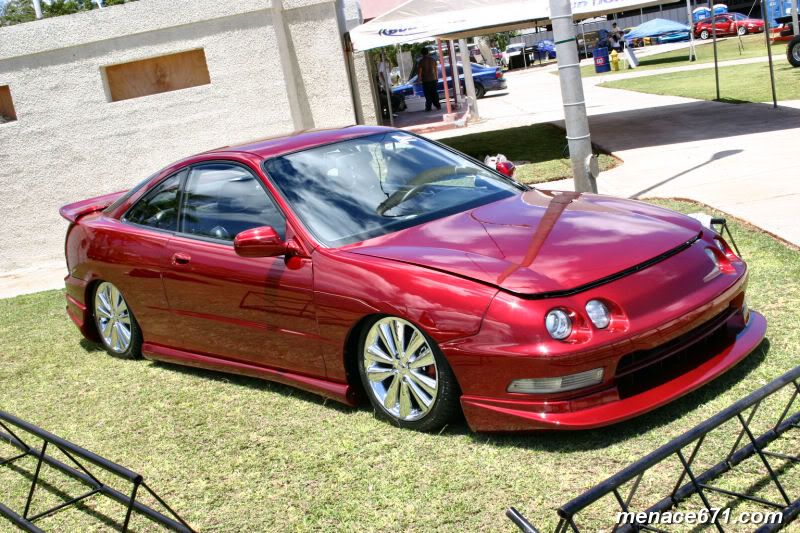 A better look at Charley's Integra on the Niche Bellas… OG status.
James Fleming brought his Integra out from Saipan to participate at X5. He had the JDM game locked down.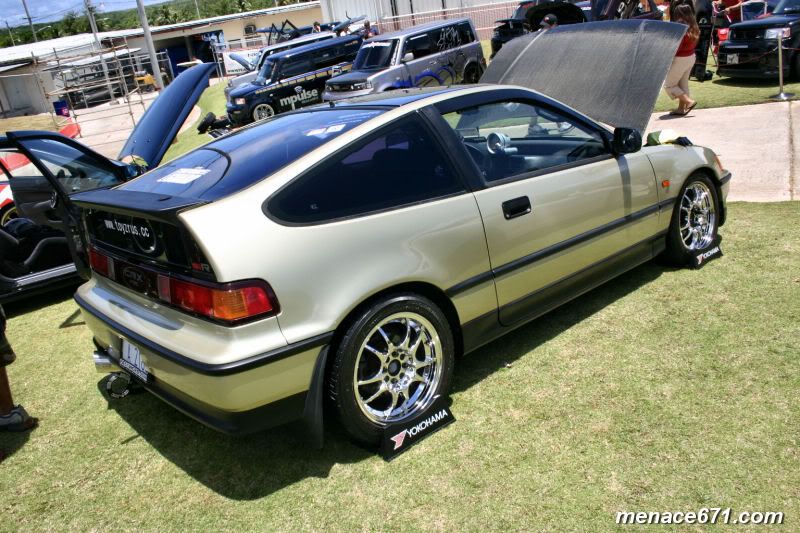 As did Alan Villanueva from TRUSport. He had one of the cleanest CRXs at the time.
Here was another one… Spoon-themed reppin' Redline. Forgot who owned this one…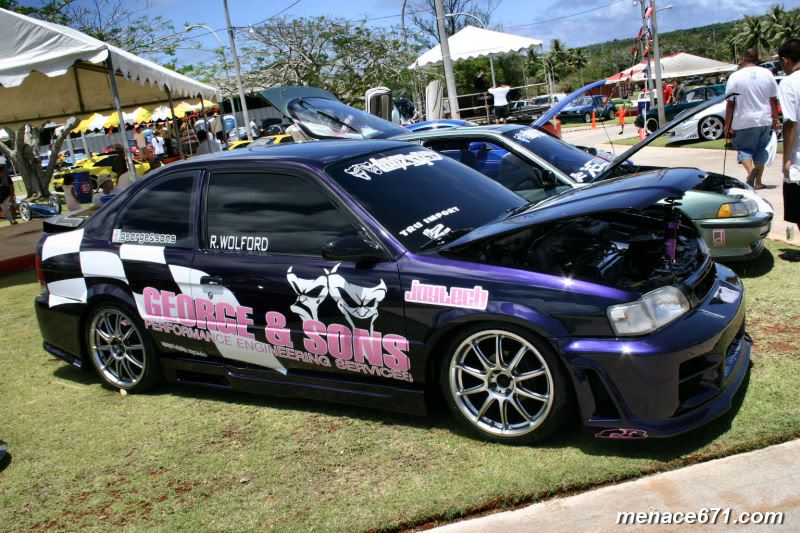 This was probably the coolest Tercel during these times… R.Wolford/TRUSport. It always had some crazy different vinyl on it at the shows.
Mike Hahm's boosted 350Z. This thing had lots of good stuff on it too… think it was featured in Modified Magazine as well, just like Ed Encina's Skyline from Hell. Not sure who owns it now, but I think it's still around on island somewhere.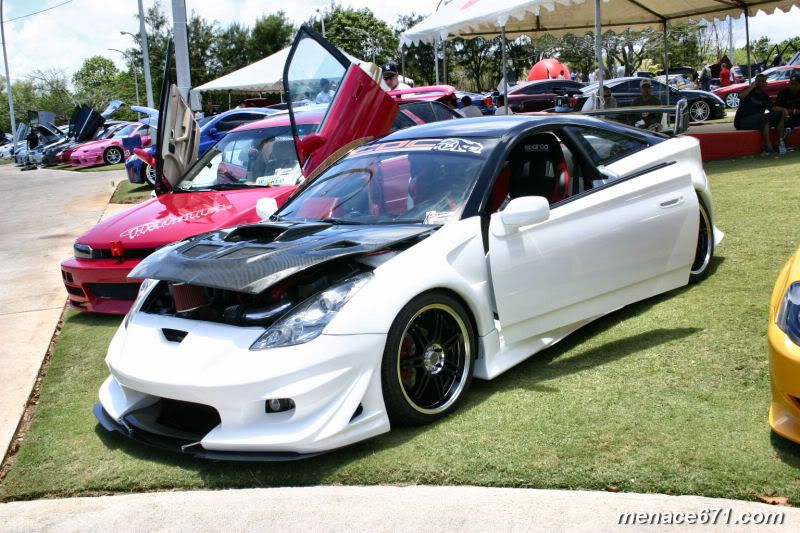 Delfin Andrada's Celica from CDC, the "Celica Development Club." These guys used to roll deep… Nowadays they're running one of the most popular photography/videography gigs on island, Je'TAdore Studios.
I'll end today's coverage with this slammed Tacoma from Kaotik… Hope to see trucks like these come out for Slammed Society.
The show scene was alive and kicking in 2006. There was a wide range of cars and clubs supporting the shows and meets were happening almost every week. Competition was fierce, but it made for some memorable times for all! Make sure to come back next time for more coverage from Guam's storied car show past as we continue to count down to #SSGU SLAMMED SOCIETY GUAM 2013!
Esta!