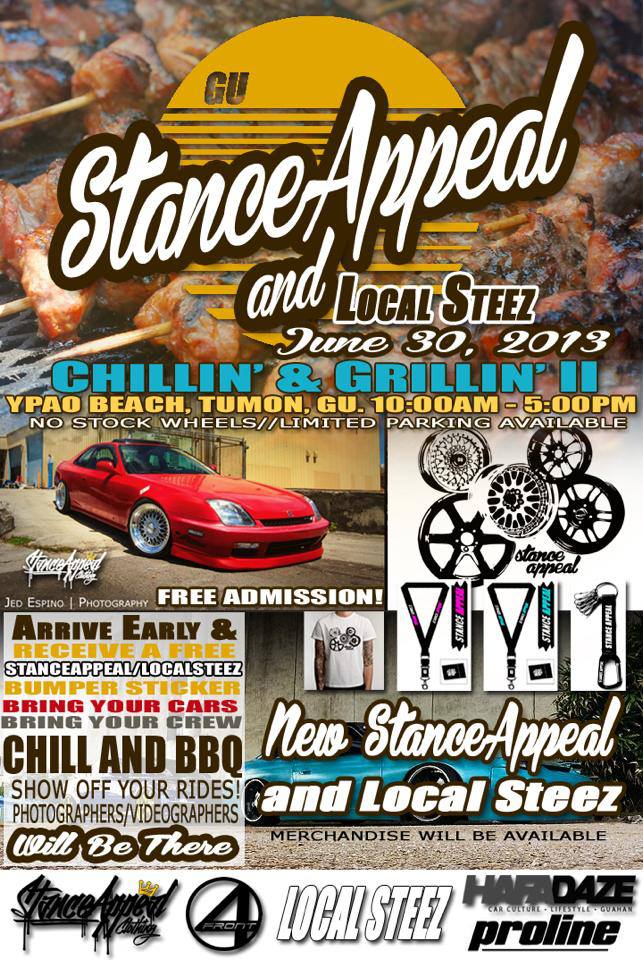 WHAT: STANCEAPPEALXLOCALSTEEZ CHILL/GRILL II
WHERE: YPAO BEACH, HILTON SIDE
WHEN: ????
Alright guys, it's summer and it's the perfect time to bust out your rides this weekend for StanceAppealxLocalsteez's Chillin' and Grillin' II. There was a great turnout last year and I'm sure that this year's event will be even bigger and better! Check out our coverage from last year here >>> Chillin&Grillin.
The meet will be taking place this Sunday at the Ypao Beach parking area (Hilton side). Be sure to get there early as space is extremely limited! If that's not enough incentive to get there before everyone else, the first 30 rides that show up will get a free event only sticker pack. Some of the HAFADAZE crew will be there, so make sure to say what's up if you see us!
Remember, this is a free admission event. All you have to do is clean up your ride and show up. No burnouts and no acting bad on the road prim. We're all there to have  good time and share some good vibes. Just remember that there's only one requirement – NO FAIR STOCK WHEELS! 😉 See you there!
**EVENT HAS BEEN POSTPONED DUE TO INCLEMENT WEATHER CONDITIONS. STAY TUNED FOR AN UPDATE!!**

**EVENT HAS BEEN POSTPONED DUE TO INCLEMENT WEATHER CONDITIONS. STAY TUNED FOR AN UPDATE!!**

**EVENT HAS BEEN POSTPONED DUE TO INCLEMENT WEATHER CONDITIONS. STAY TUNED FOR AN UPDATE!!**