Guam's heat is mostly tolerable when it comes to car shows and meets. That's why Triple J's Honda Tech 2013 was nothing short of flippin' sweet! It had to have been one of, if not the biggest turn out in the 6 years that they've been hosting these meets. The parking lot was PACKED with Hondas and Acuras from all over the island. Both familiar and new faces came out this year which is always refreshing and Triple J's lineup of entertainment and vendors just keep getting better! And now, the photos!
Shout outs to Marvin @ Triple J for bringing us on board for Honda Tech 2013. Glad to be helpin' you guys out! Thanks to everyone who dropped by and said what's up at our booth!
If Jung Kim catches your ride on stock wheels, expect a line similar to "Name any wheel you want, show me the money and they're yours." The Work XD9s on his AP2 are just one of many sets that rest in his storage.
The rear was just as I left it..
The front, not so much.. It now sports a custom Lerkworx bumper that came off my friend MTX-Bahj's old Integra.
We've had a number of purple DAs pop up before, but all were darker, midnight like, shades. This one was a lot lighter so it was really refreshing to see, especially when mated with what looks like CCWs.
M2S-Edwin brought Redline-Jun's R converted Integra out to the meet.
One of the joys of Triple J's Honda-Tech Meet at the GIR dragstrip- free races. Above is a shot of homie JD's Integra pulling on Team Ghost-Russel's S2K.
Serious B.
I'm not a scooter nor bike head, so I honestly could not comprehend what Team Abunai-Josh was telling me when I asked him what this thing was, lol. "MetRuckus." Whatever it is, its freakin' cool!
M2S-Marky's Integra.
Limwell Baluyut's Turbo EK. Even when he had first completed it with the other set-up, I knew this car was something else. No stone left un-turned with this one. I actually still have a draft of the write-up for this car saved on my computer. I remember pitching the idea for a feature, but don't remember why it never pulled through.. Irwin! Well, it's too late now. The car has been completely parted out. Not sure if this was the pic of the same run, but he did pull a 12.2 @ 129 mph that day, snagging the award for Honda Tech 2013's fastest ET.
One of the many reasons why my Honda-Tech 2013 experience was well worth it- Team Abunai and friends!
Team Ghost about that i-VTEC life.
The last time I saw Rtoy-Darrell's B20V Integra make a pass, it did a 13.1 or so. And that was a while ago. They could have made a lot of improvements since, and that's why I was pretty excited to see it race. Guaranteed-Bobby was piloting but I don't think they were able to get a full run in. Bogging/ignitions issues I think. Hope they got it squared away though.
Preach!
V stackin! The rear bumper of this car is actually a Bomex/Ballistix one cut up for less drag. Wish I had a pic cause it is pretty damn beasty.
This way only. Mike Franco's K20R EG.
Cheat code: 01101000011011110110111001100100011000010111010001100100.
M2S-Jerry's ITR powered LS sedan.
Fully Polished Works on this S2K from Ill Dynasty.
OOTD- Black and white. SSR Type Cs on the white Hatch.
Team Murata-David's Integra and Civic.
Julien Bieber- Nampa bait posing with the Best Honda at Triple J's Honda-Tech 2013.
Team Ghost-Journey doing some reaction time exercises during musical chairs.
Clean Civic Coupe on Hayashi Fin style wheels.
Almost complete EK9 converted USDM Hatch. Almost because it's still LHD and not R colored. Everything else is pretty much on point.
Whether you've had twice the cylinders or xx amount of force induced psi, you wouldn't dare sleep at the light because Guil Apresto's all-motor Integra would've surely given you a run for the money. I heard Chris Q. holds the keys to it now, but it is still the car I have always looked up to.
Guaranteed Marvin, with girlfriend Shar, chillin in his newly finished NH0 Coupe.
Hammered Si.
Before and after. 😉
This is probably one of the most underrated Tegs here on Guam. Even during the car show years, this car has always switched up paint jobs to stay fresh, but still never really got the recognition I thought it deserved. The Mugen/Wings West kit for this year was always something I wanted to try on my old Integras. Some clear/JDM/OEM bumper lights and 16″ Bronze MF10s, and this car would be on the money.
Simplicity is key.
HFDZ-Art likes this. Soyy Coronado's Teal Accord Coupe.
Rear shot of Guaranteed-Marv's Champ White Coupe on Track-Rs.
HFDZ-Juan likes this EBP EM1.
TRU-Clark's DC4 looking cleaner than ever.
TRU-Jed's Civic rocking some wiiiiide XXRs. I believe this thing won "Best Stance" of Honda-Tech 2013.
Check out the rest of our photo stream here!
http://www.flickr.com/photos/hafadaze/sets/72157633440154109/
AND! Exclusively on hafadaze.com, the last thing I wanted to cover was the Samson Mora tribute.
28, of Dededo, Guam; assigned to 1st Battalion, 294th Infantry Regiment, Guam Army National Guard, Barrigada, Guam; died July 10 in Babo Kheyl, Afghanistan, from wounds sustained when his vehicle was struck by an improvised explosive device. Also killed was Spc. Brian S. Leon Guerrero. 

– MilitaryTimes

http://projects.militarytimes.com/valor/army-sgt-samson-a-mora/3625637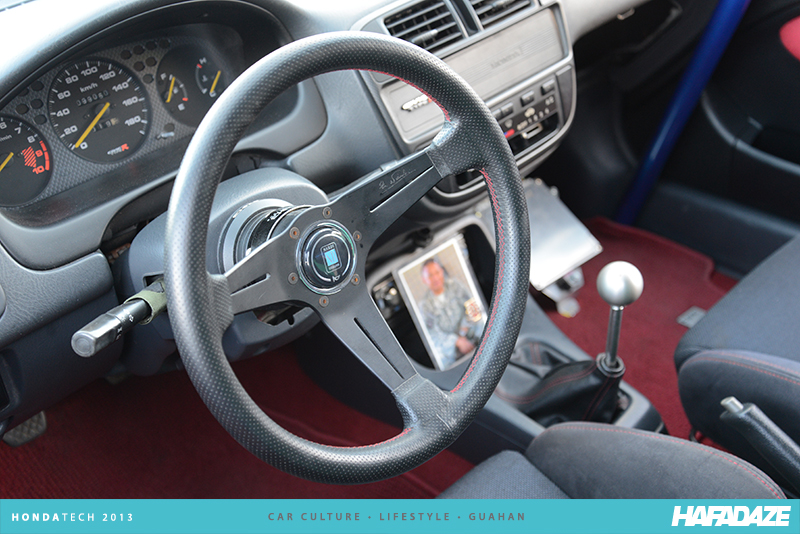 What was once an unfinished project was now complete.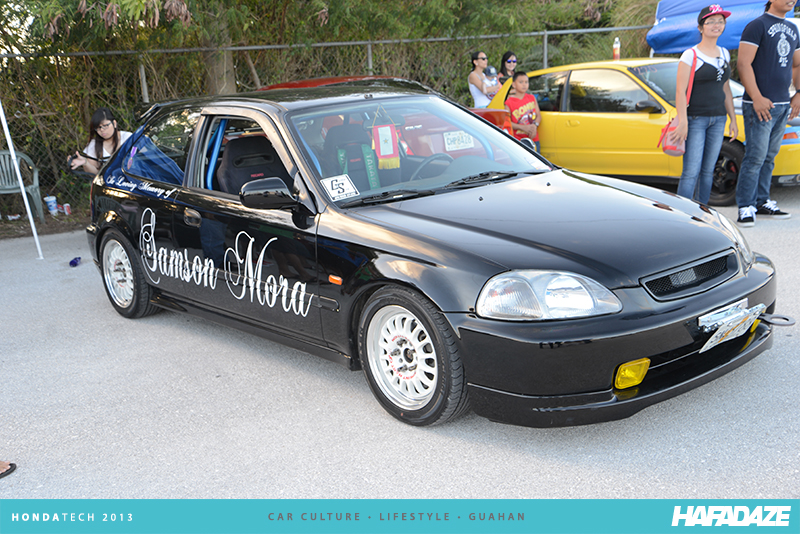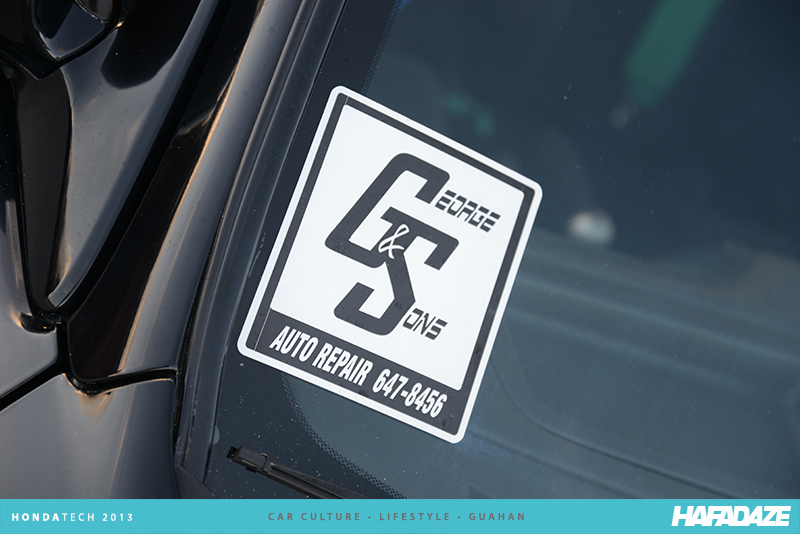 Shout outs to George & Sons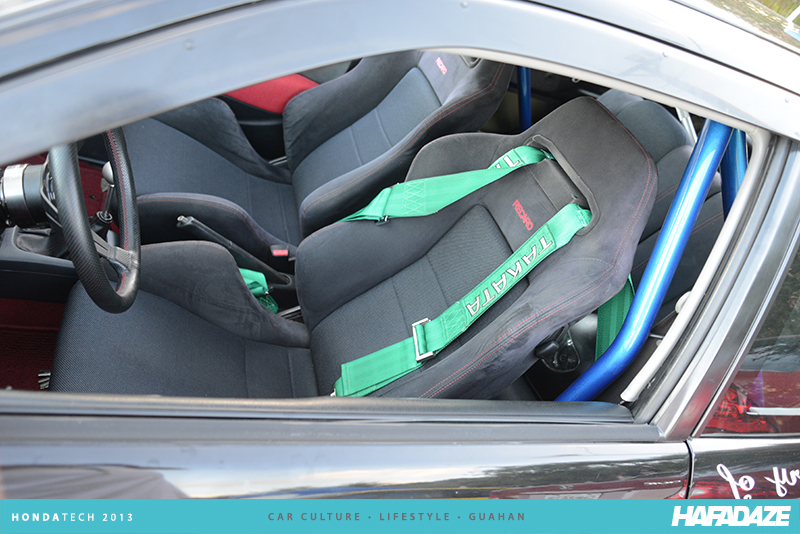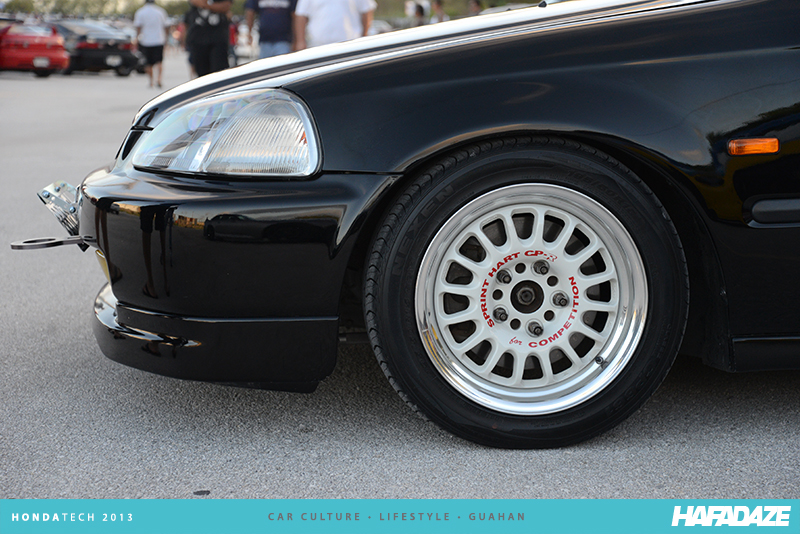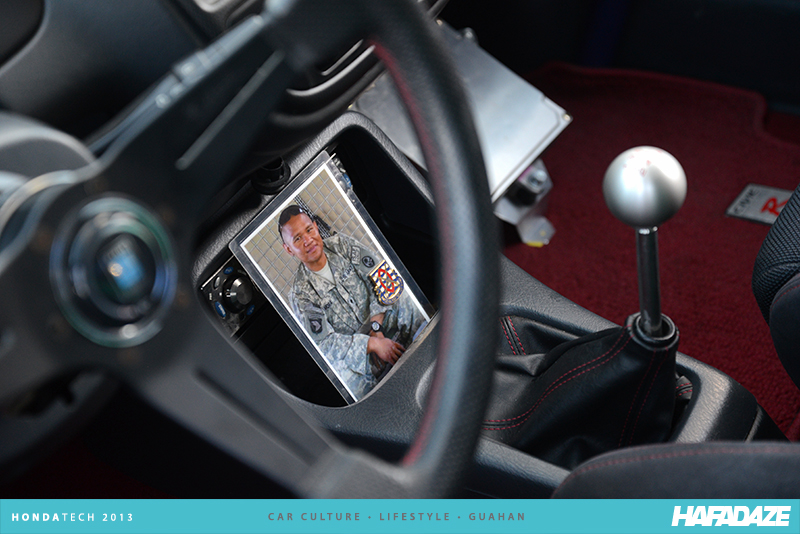 Car is looking great, Sergeant!
Photos and captions by HFDZ-JME.