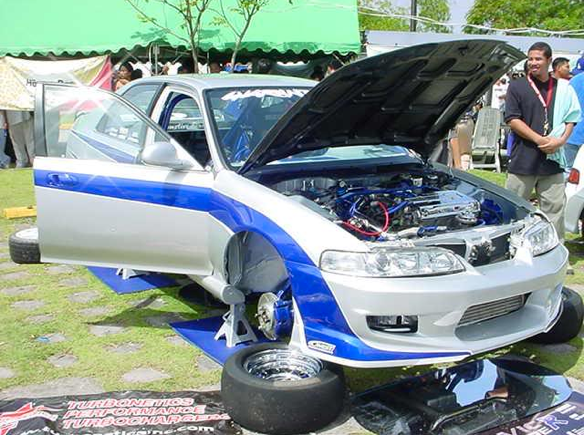 If you were into the import tuning car scene on Guam in the early 2000s, the name Ray DeLeon was synonymous with the Civic (yes, it's a Civic) above. This picture was taken in 2002, at the infamous Auto Jam car show that was held at the Micronesian Mall parking lot that year and in 2002 and 2003. I was 18 years old at the time and didn't really care so much about modding yet, but these shows at the mall are what really got me hooked. The original "The Fast and the Furious" movie was out and people were going crazy over imports… I remember my favorite cars being the black Civics with the green neon under carriage lights that Dom's crew used in the hijackings – I didn't even care about the Supra, lol. Needless to say, the movie basically fueled the scene and the cars that were coming out here on island were pretty wild builds!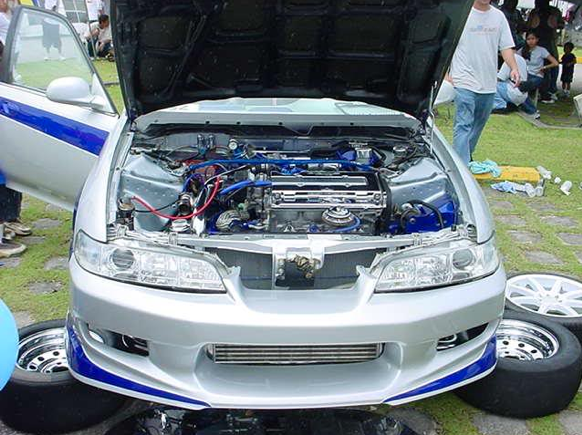 Ray's Civic was one of the best built cars on the island at the time. Looking at these pics, if Ray just changed out the front end to an original 92-95 front and maybe deleted the stripe paint job, this car would still would be really relevant and better than most cars in today's scene, more than 10 years later.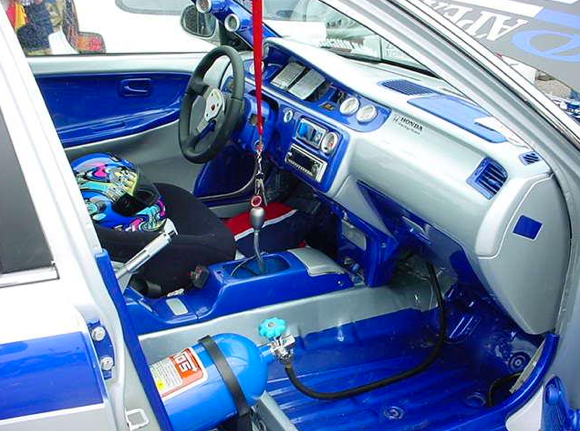 There was no stone left unturned with this Civic… Ray and his crew at the time, Guaranteed Auto pulled out all the stops.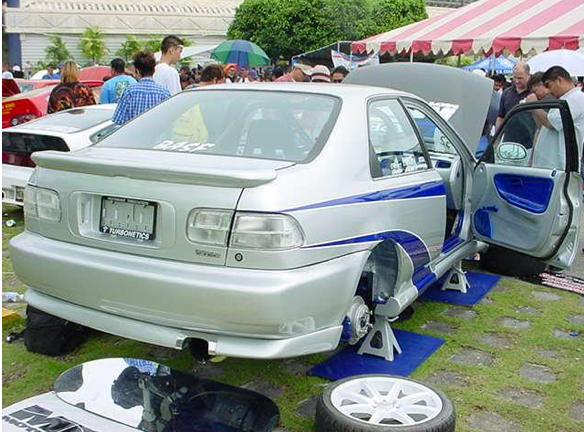 I spy a Ferio wing (or maybe a Wings West replica), which most "jdm-ers" today still would long to put on their 92-95 gen 4-door Civics…. He even had the all clear taillights which have been recently making a comeback in the scene. A couple of years later at Island Import Night 2004 held at the drag strip, Ray did another makeover and actually went back to the original 92-95 Civic headlights but had retrofitted an Integra front bumper on it. Ray's civic barely made it there as it was been worked on all night… but I do remember it taking home an award.
The scene at the time was HUGE… Car clubs were big, competition was fierce, and conversions were the norm. If there was an encyclopedia of Guam import car show history, Ray's Civic would definitely have itself a huge article in it. I love looking back at where the scene has come and gone… and it's interesting to note that Ray has still not lost his love for it. Shortly after The Fast and the Furious boom, Ray packed his bags and moved out to Las Vegas to hopefully find a better living for himself and his family. Today, he works as a certified parts specialist for Nissan/Infiniti. Not a bad job at all, since his love and passion is for cars.
If you've been following our site, you might remember a video we posted by Anton Ngata/AN Films featuring Ray's Acura Integra Type R. We've also been posting it up once in a while on our Facebook, as he has been representing Guam at shows on the West Coast. The scene out there is much larger, but Ray has obviously found  a way to get himself noticed. He's won numerous awards at shows in Vegas… But probably his biggest accomplishment so far is picking up a 3rd place "Best Integra" award at Wekfest LA – which is pretty mind boggling, considering how extensively built the cars are out there. He definitely wasn't expecting the award, but it goes to show how much work he's put into it. He picked up the ITR from a friend of a friend who was originally asking a steep $16,000 for it. Luckily, he got it at a much better price… $11,000 – which is roughly what one might expect to pay for a real ITR today (even one with high mileage). There was some work to be done on it, but Ray, through all the years of Honda experience on Guam, was able to give her the tender loving care she needed.
This is truely Ray's dream car, having gone through many other Hondas since arriving in Vegas, including another Integra that he currently owns and also brings out to shows and meets. He plans on doing some drag racing and road racing in the future, but for now he wants to go ahead and bring her out to more shows in Sin City and in California.
While most tuners today would scoff at anything bigger than a 17″ wheel on a Civic or Integra, Ray went ahead and took it back to the early 2000s throwback sizing, with these 17″ Work Emotion CR-Kais.
Very interesting picture. If you really think about it, many of the major Guam import car clubs are represented here.
FUK'N Tserry was originally a phrase/sticker coined by the Made to Excite crew. Hafadaze's roots are from members of the Menace 2 Society car club. SOHI Garage is a small kine auto shop in Vegas wrenched by Andrew Custodio, who was in Toyz R Us when he was on Guam; and of course the ITR is owned by Ray, who was part of the Guaranteed Auto crew. When people from Guam (including Ray) move to Vegas, we naturally and somehow long to find "someone from Guam." HFDZ~Irwin actually met Ray in Vegas when he was chilling with, Dan Sarmiento (Jah-Blu Films) who was also in Toyz R Us on Guam. To make a long story short, the Guam boys in Vegas (no matter their car club affiliation or gang lol) all chill and support each other. Check out our Facebook and Instagram to see who else reps Hafadaze out there, as the Guam boys have been spreading the HAFADAZE spirit!!
Be on the lookout for more of Ray's ITR, as I am sure he will continue to do the ITR platform justice. Maybe we'll even see it pop-up in Honda Tuning in the near future? With that, Ray wants to give some shoutouts to his Guaranteed Auto familia on Guam – especially Ray Estioca, Guil Apresto, Junbug dotdot ("for all the backup and everything"); Team MONSTAR, Lowballers, SOHI Garage, TREVTEC Motorsports, LDL Speedshop, and AN Films. "Thank you to everyone else that has motivated me to keep doing what I'm doing," is what Ray messaged me… I say no, Ray, thank you for always representing Hafadaze and our beautiful home, Guahan!!!
Esta!