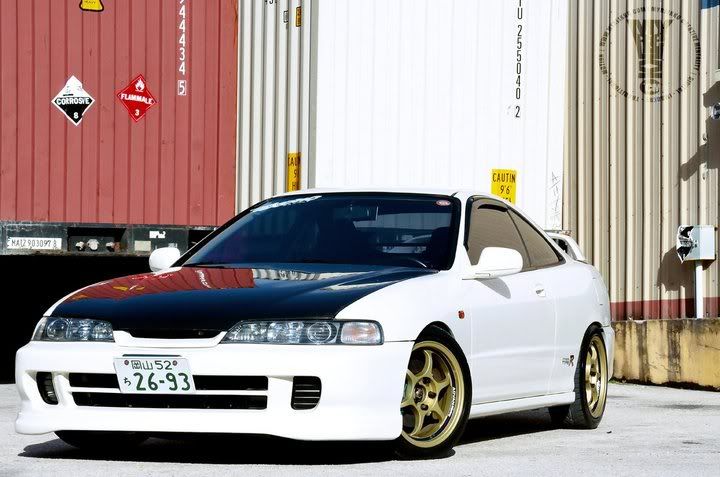 When you talk about the motorsports scene in the island just north of us, Saipan, you can almost immediately assume that the name James Fleming will be tossed around. In fact, James happens to be pretty well known on Guam as well. You may remember seeing a CTR-Inspired Civic hatchback we featured last year owned by Ian Elago – James had done most of the work on that particular vehicle. Pictured above is James' 96 Acura Integra RS which has just about every part from one of the Honda holy grails – a 97 JDM-spec Integra Type R.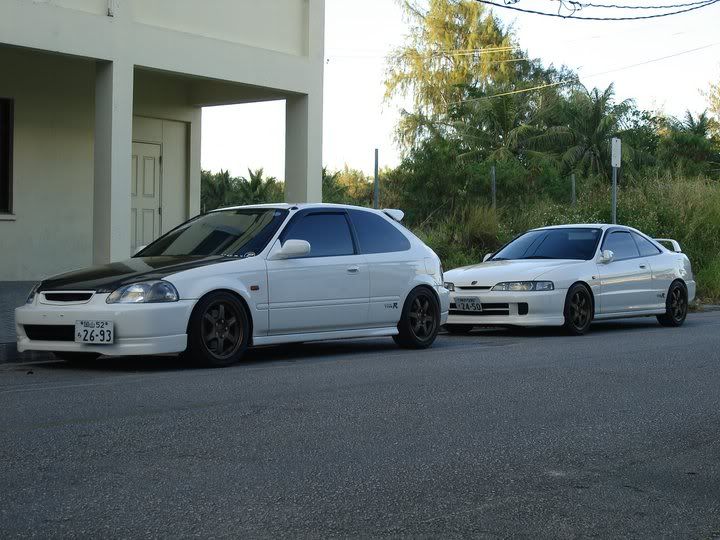 Of the many Hondas James has built, he is particularly proud of his CTR and ITR clones. I've seen and even driven the "CTR" – and it is definitely a piece of work – James left no detail and corner untouched. He was sad that he had to sell the Civic to someone here on Guam – but he was happy in the long run – now being able to fit his family comfortably into a more practical Scion XB.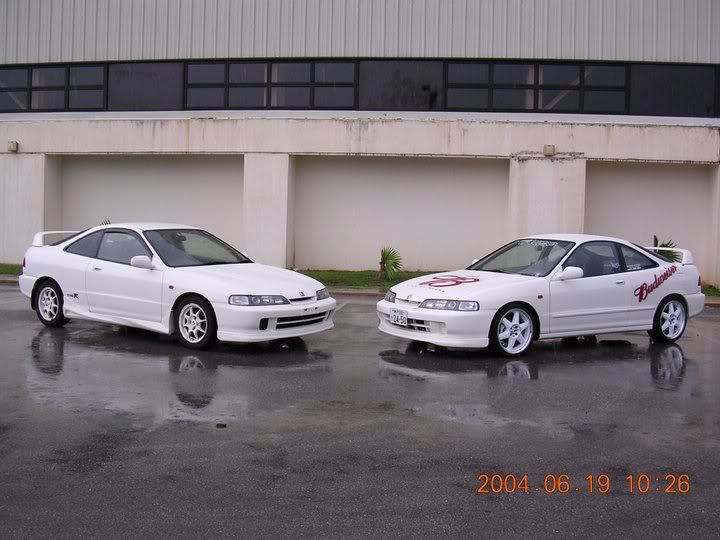 Though somewhat bummed that the Civic was no longer in his stable of rides, he still had another Honda playtoy/project – his Integras (97 ITR, 96 RS). James could not keep the 97 JDM-spec ITR (left)… so like a mad scientist, he transferred everything – and I mean everything from the doors, dash, carpet, motor, etc. from the ITR to his 96 RS (right).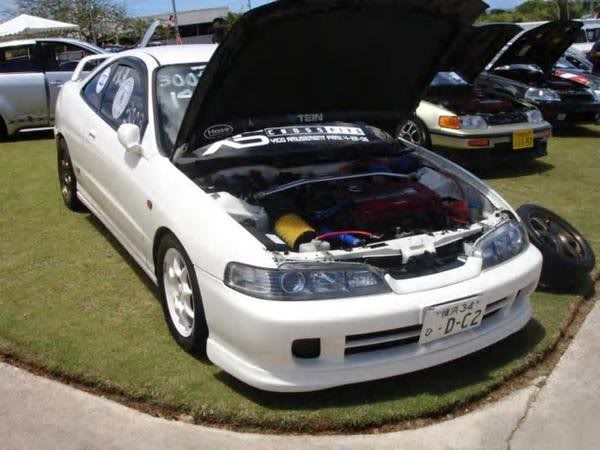 In 2006, James shipped his now ITR-transformed 96 RS (97 ITR was demolished, RIP) to Guam for the X5 Supershow. He ended up taking home 2nd place honors in the JDM category.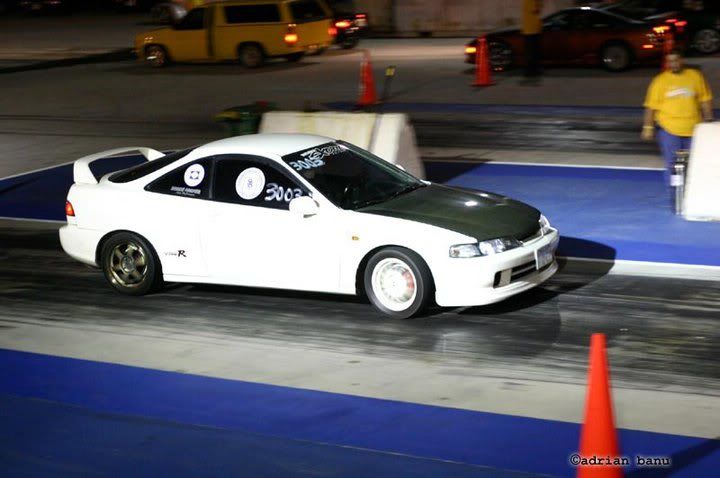 The mostly stock-motored Integra also managed to clock in a decent 14.2 in the 1/4 mile…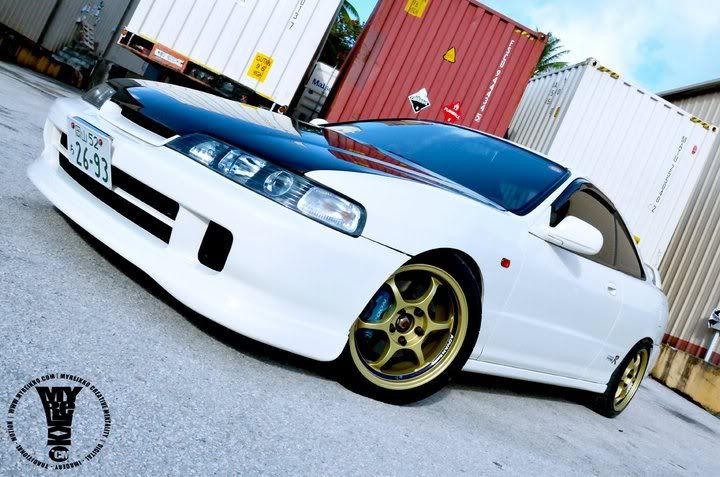 I was on Facebook last week (yea I'm always on FB, snooping around… haha) and saw that he created a new album titled "FOR SALE." I was surprised to see it because the last time we spoke – he mentioned that this car was going to stay with him for a long time… But, as we all know – good things all must come to an end sometime. He did everything he wanted to do with this build, including ditching the 4×114.3 from the 97-ITR and acquiring the 5 lug conversion/Advan RG/Spoon caliper combo from another well-known Honda builder on Guam, Raffy Manejero.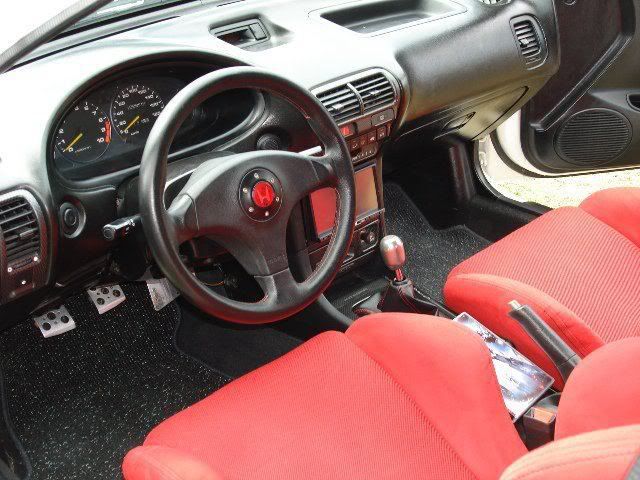 Like I said earlier, James' Integra is as close to a real ITR as you can get. Everything was transferred – seats, carpet, panels, dash, cluster, doors, wing, mirrors, visors, a/c vents, dirt, rocks, stains, smell… EVERYTHING!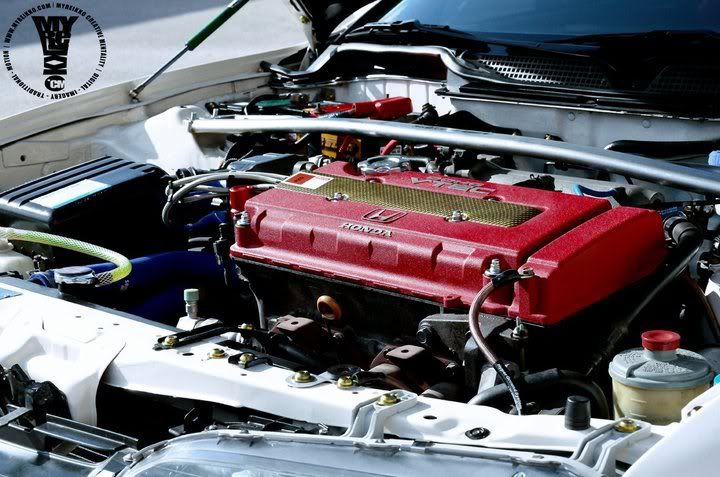 He went balls out aka Spooned out on engine accessories… SPOOOOOOOOOOOOON! 🙂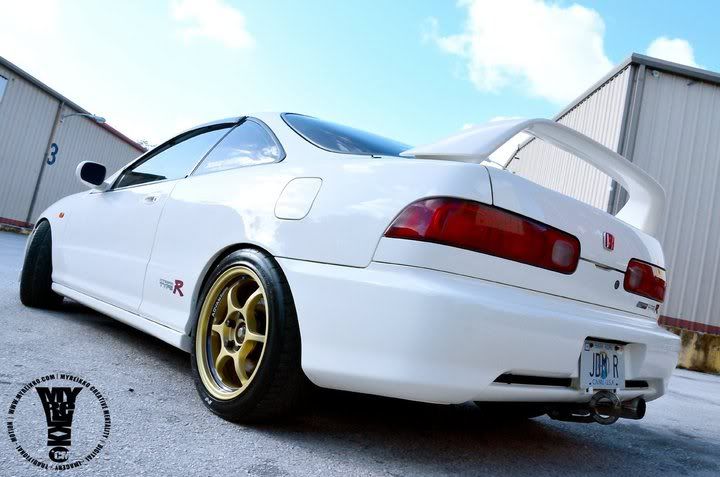 I wish I had the money right now because I would definitely love to be behind the wheel of this well-built Integra. I just hope that whomever finally purchases it takes as great care of it as James did!
James Fleming's 1996 RS Acura Integra
INTERIOR
JDM ITR Red suede Recaro Seats, rear JDM ITR suede seats, JDM ITR floor carpet, JDM ITR rear panel, JDM ITR front and rear floor mats, JDM ITR doors panels, JDM ITR carbon fiber window switches, JDM ITR ceiling, JDM ITR cluster, JDM ITR Center console, JDM ITR E-brake eliminator, JDM fog light switch, JDM ITR titanium shift knob, JDM ITR JDM rear strut bar, JDM ITR steering wheel, JDM ITR seat belts, JDM ITR sunvisor, USDM ITR carbon fiber shift booth center console, USDM ITR carbon fiber ashtray assembly, USDM ITR passage air-con vent, CDM ITR block off tray, carbon fiber rear flooring, Mugen pedals, ITR shoulder pad, replace the beige dash board to USDM GSR front dash board
EXTERIOR
Dupont NHO Championship white paint, JDM ITR front end conversion (oem headlights, fenders, side markers, hood, front lip, center grill, radiator support), JDM ITR doors, JDM ITR hatch, JDM ITR rear spoiler, JDM ITR rear side panel and rear panel decals, JDM ITR power folding mirror, JDM gas tank cover with decals, JDM ITR window visor, JDM side skirt, Benan Ind. rear tow hook, JDM license plate with frame holder and Password JDM aluminum washers, JDM registration decals, Seibon carbon fiber hood
ENGINE
'97 JDM ITR B18C Motor with LSD transmission, JDM ITR '98 4-1 headers, Spoon Sport High Tension plug wires, Spoon Sports air filter, Spoon Sports reservoir covers, Spoon Sport thermostat, Spoon Sport thermostat switch, Spoon Sport valve cover cap/OEM polished cap, Spoon Sport radiator cap, Spoon Sports magnetic nut (transmission & engine), Spoon Sport engine damper, JDM ITR badge, Tein hood dampers, Sun Hyper ground, Samco radiator hoses (blue), Hose Technique hoses (red), Dressupbolts.com Titanium (gold) screw and washer kit, JDM Exedy stage 1 clutch, Kakimoto Mid Pipe and Mugen Twin Loop rear exhaust system.
SUSPENSION
Tein Basic system (coil-over and shocks), JDM '00 ITR Five Lug Conversion (JDM ITR '97 4×114.3 to JDM ITR '00 5×114.3), Mugen front strut bar, Function 7 Polish lower control arm, Spoon Calipers with front and rear slotted rotors with Hawk performance pads
WHEELS & TIRES
16″ Advan RG wheels with 205/45 Nitto Neogen, Volk black lug nuts.
I.C.E.
7" Panasonic double din monitor, 4 channel Alpine Amp, 6½" JBL GTO 2-way (rear) speakers, 5 ¼" JBL GTO 2 way (front) speakers, 8" Bazooka.
(Photos courtesy of James Fleming and Myreikko)