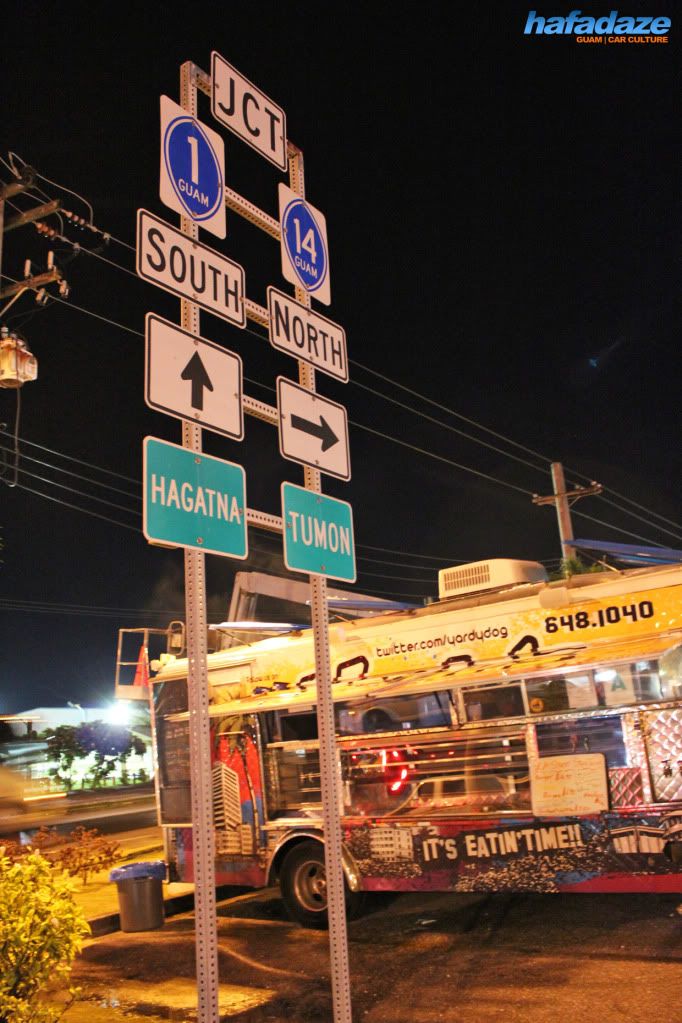 So my tsik and I were driving around a couple of days ago and stumbled upon this food truck parked at the corner of the ITC intersection. Growing up on Guam, we're accustomed to seeing these "canteens" all over the island. I remember when my mom used to work at Public Health in Dededo; I'd always beg her to give me money to stop by the makeshift mobile kitchen made out of plywood to get some corn soup and Meiji chips. When I saw this big truck with the bright lights, I thought wow – this looks like something special.
We had actually seen the truck parked there earlier in the afternoon as we were headed to catch Captain America at the Agana Theaters. As some of you may know, I just came  back from a trip to California… so naturally the LA Style TACOS sign immediately caught my attention. I knew we had to make the trip back to check it out later in the night – which we did…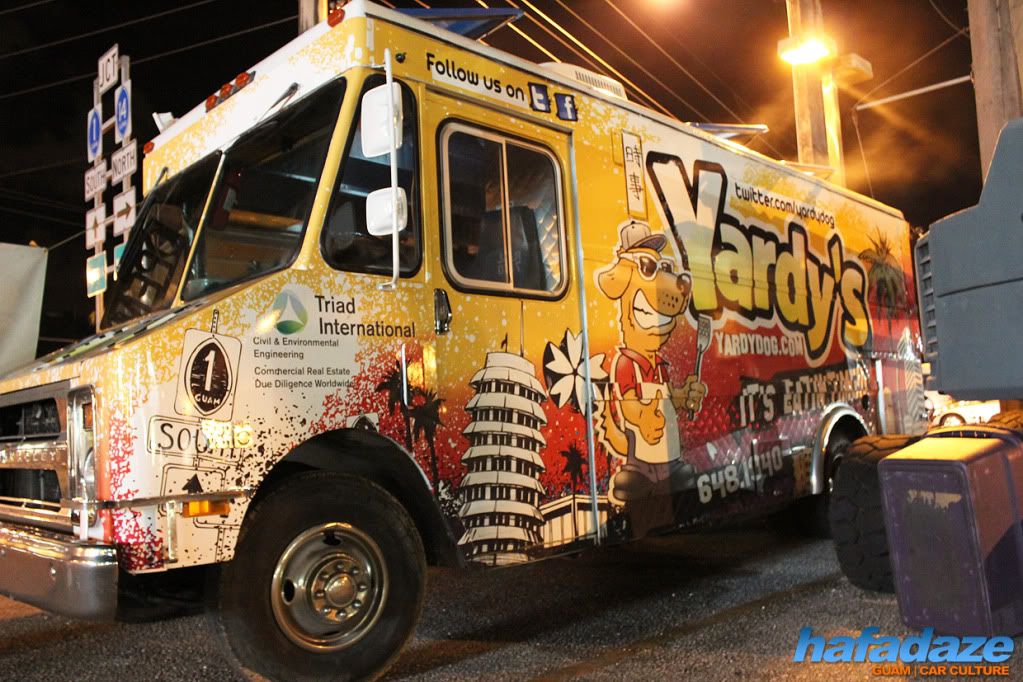 As we walked up to the truck, a customer had just left so we were helped right away. The tsika went up to order and I stayed to the side and chit-chatted with one of the owners – Courtney (sorry if I spelled your name wrong!). We were chit-chatting for awhile about how business has been going and whatnot… They have two of these trucks roaming the island's roads – most of the time parked in the central area. Some requisite spots they have been parking at are at the port, Skinner's Plaza, the ITC intersection, and most recently outside Club Denial. Yes, Club Denial. The latter spot sounds kinda weird, but when you really think it about it… it's a great idea. Anyone ever catch The Great Food Truck Race on the Food Network? These food trucks try and find the best spots to sell and market their food – most of the places being outside night clubs. With alll the drinking, flirting, banging on the dance floor…. you're bound to get hungry right? Genius! Anyway, we were talking about some possible Northern spots they could stop at and Route 16 came to mind. Who knows though, the truck is mobile so they could be anywhere!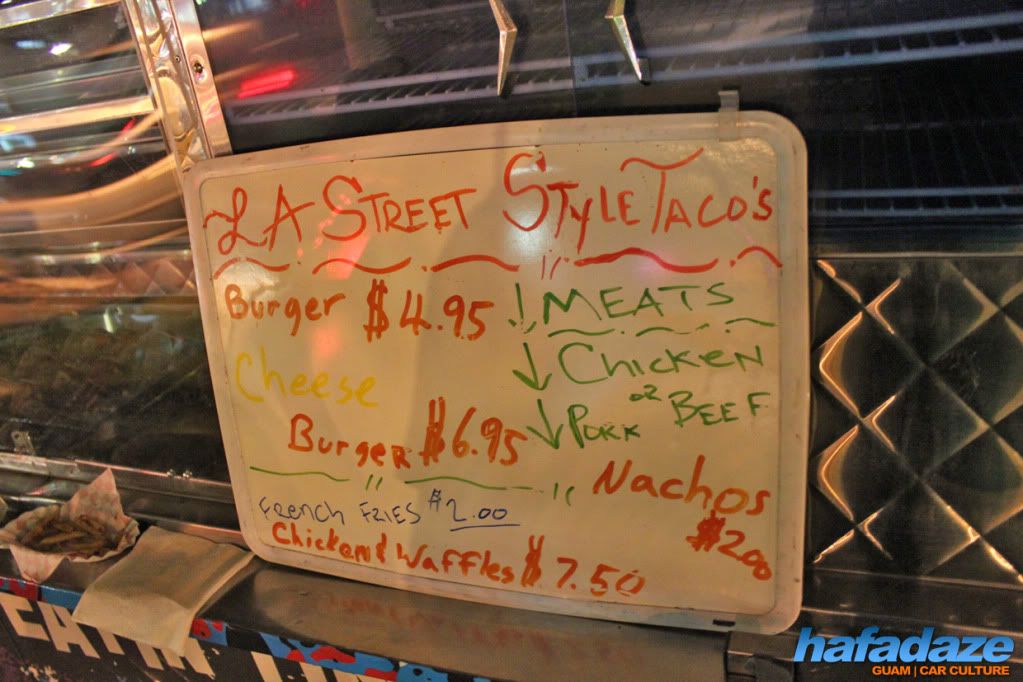 Their main feature is of course – Tacos. So that's what we ordered… What really caught us off guard was… look closely now… Watchu know about chicken and waffles?! We had just visited Roscoe's on our past trip – a place which is insanely popular in California. The two match, trust me. Chicken on waffles on Guam… who would have thought? Didn't get to try the Yardy's version that time around but it's definitely on our to do list.This isn't their "set-menu" – they actually have various specials depending on the day. "Keeping it fresh" so to speak.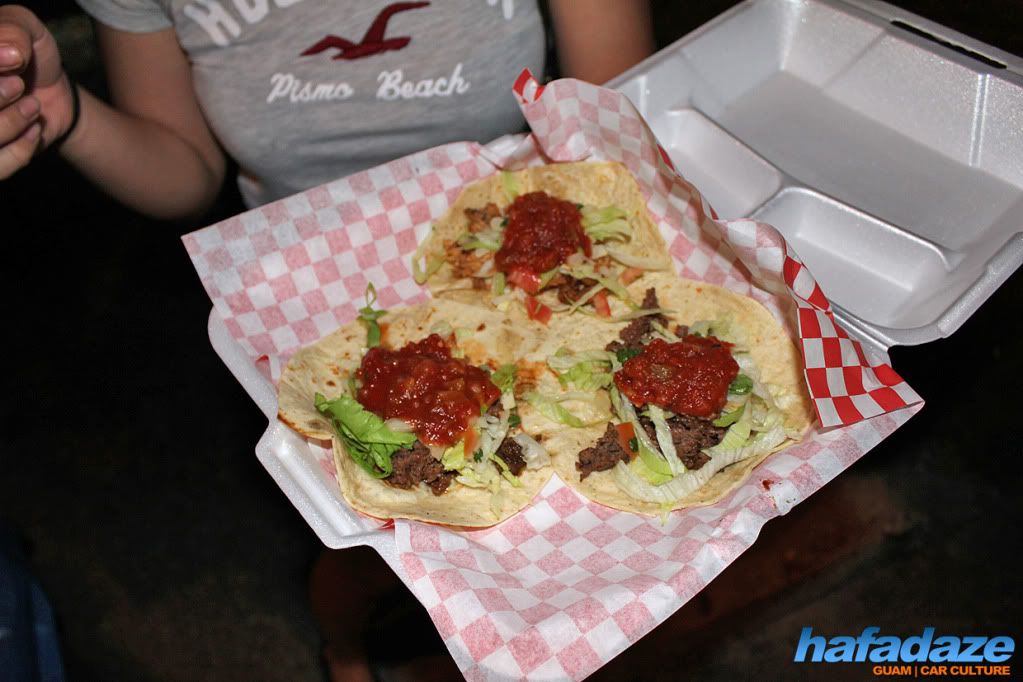 These were the tacos were ordered. They were pretty damn good. This over Taco Bell all day everyday. I got the "hell" salsa… which wasn't really hell. Those who know me, I absolutely love spicy food… I'll eat it to the point where I sweat profusely. Yeah, I'm hot like that. I really need to make more visits back to try the rest of the food… One of my friends on Facebook posted up a pic of what he ordered when he visited. I looked like corned beef fried rice with an egg over it? Oh yeah……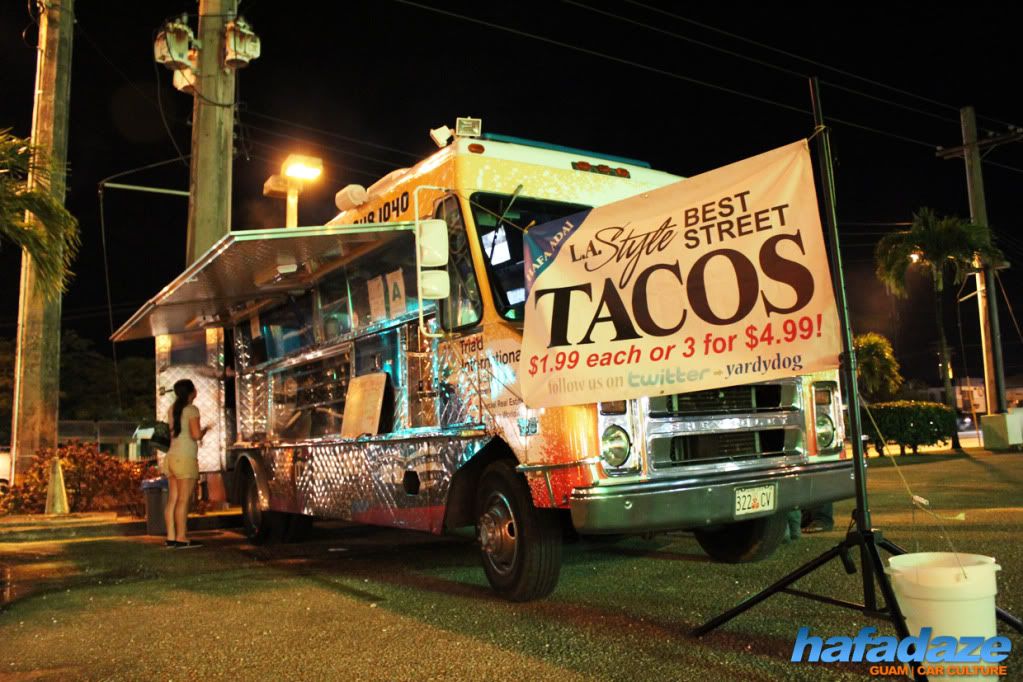 So what's different about this food truck vs. Auntie Baby's canteen? Well, this thing is pretty much a hooked up, moving kitchen. As you can see, there's a bright green "A" public health rating – so that's definitely a plus! lol. It's definitely appealing with all the neon lights and flashly exterior wrap. And one thing's for sure – these guys are in it to bring something "new' to the island… and to serve the community at the same time. I'm not one to brown-nose (see my California Submarina writeup, haha) – but these guys are some of the nicest people you'd ever meet. The food is affordable and from what I've tried so far – is pleasing to the palate. Check them out, and tell them the guys from HAFADAZE.COM sent you!
For more info on Yardy's you can:
Follow them on Twitter: http://twitter.com/#!/yardydog
Find them on Facebook: http://www.facebook.com/pages/Yardy-Dog/192824447432903
Visit their website: http://www.yardydog.com/