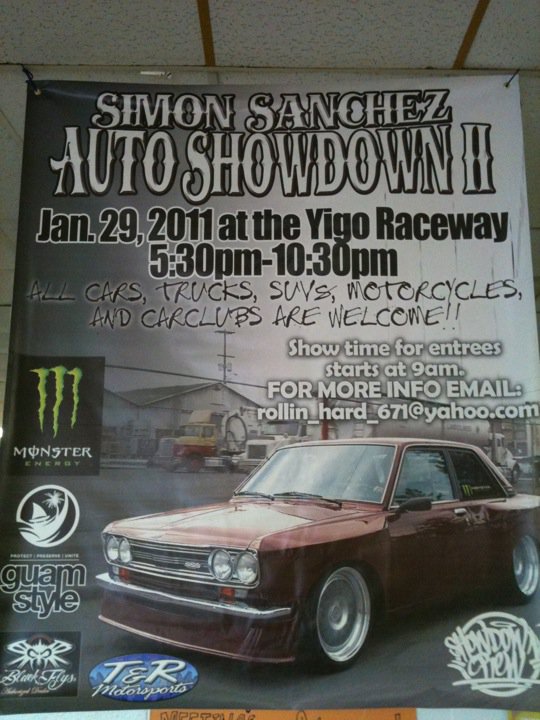 Calling all Simon Sanchez High School ALUMNI and all car enthusiasts!
Who has the best rides? Can the past take the bragging rights again or does it go to the current students?
PLEASE COME OUT AND SUPPORT THE GRADUATING CLASS OF 2011! The car show open to the public. This event is also to support the track and all it's hard work to bring the island community together!! Let's have a great night!
*CAR  SHOW PARTIPCANTS/EVENT-GOERS:
– $15.00 per car entry.
– Groups with 10 or more participants will have a lowered fee to $10.00 per car.
– $2.50 admission fee.
*CAR SHOW CATEGORIES
Best Car
Best Truck/Jeep
Best JDM
Best VIP Look
Best Moped/Bike
Best I.C.E.
Best Alumni Ride
Best Group
Best of Show
People's Choice Car
People's Choice Burnout
[Prizes will be awarded for all winners.]
– Show time: 5:30pm-10:30pm
– Roll in/setup for show entrees: 9am-4pm on January 29, 2011.
– Front gate will close at 5:00pm.
*Please remember that this is open to the public, but it is still a school event.
*No outside food or drinks allowed!
*No alcohol or tobacco!
*Searches at front gate.
*Vehicle searches at random.
*Vehicle owners are responsible for belongings & vehicles.
*SIMON A. SANCHEZ HIGH SCHOOL WILL NOT BE HELD LIABLE FOR ANY DAMAGES OR LOSS OF ITEMS.
For more information please email:
rollin_hard_671@yahoo.com
DOWNLOAD THE ENTRY FORM HERE: http://hafadaze.com/showdown/ENTRYFORM.doc
——————————————————————————————————————————————
Some of the HafaDaze.com crew was at last year's show and it was a big success. Lots of cars and lots of fun for everyone that attended. We will be there again this year, as we are sponsoring the Best of Show category. Be on the lookout. 🙂
Here are some pics of the show from last year's event: